At the ICUEE show last week, Loftness debuted the two latest mulching attachments in its VMLogix lineup. The new Battle Ax mulching head is available currently available for 7- to 15-ton excavators with a skid-steer model on the way, while the Bad Ax disc mulcher is designed for skid steers.
Both the skid-steer and excavator models of the Battle Ax feature a 17-inch diameter rotor with a unique design that incorporates depth gauges. These depth gauges have the look of a shark fin jutting from the rear of the rotor's teeth and Loftness says they function similarly to raker teeth on chainsaws to prevent the mulcher from engaging too much material at one time.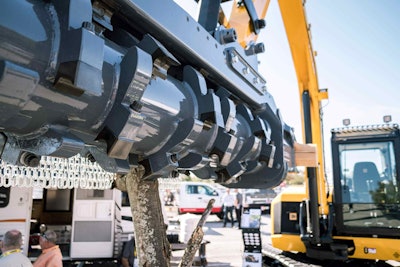 The Battle Ax excavator head is available in 41-, 51- and 61-inch cutting widths, while the skid-steer model is available in 61- and 71-inch widths. Two tooth options are available for both models: Quadco reversible knives and carbide teeth.
The mulcher features a two-stage cutting chamber allowing material to be cut twice by the rotor. Loftness says the attachment produces some of the smallest particle sizes in the industry.
For jobs more about speed than a finer mulch, the Bad Ax disc mulcher features a 60-inch diameter, fully machined disc with no welding. Features include Quadco reversible teeth, bolt-on replaceable tooth mounts and an adjustable tree-pusher bar.