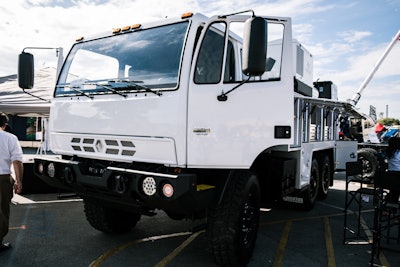 Though Montana-based Acela unveiled its Monterra lineup of extreme-duty cabover work trucks back in June, it wasn't until last week's ICUEE show in Louisville that these reset military trucks had made an official U.S. debut.
For the special occasion Acela outfitted one of its Monterras with a 6×6 chassis (the truck is also available in a 4×4 configuration) with a custom service body from Brutus Truck Bodies of Penticton, British Columbia, Canada.
As we noted in our initial writeup on the young company, Acela is aiming these Monterra trucks at commercial markets that demand high performance off-road trucks including oil and gas, mining, utilities, fire departments, pipeline construction and forestry. The trucks, which are U.S. Army Family of Medium Tactical Vehicles reset to near zero-mile condition, boast 8 inches more ground clearance than any other truck in their class, which keeps the transmission and drivetrain components free of caked on mud, bitumen and other drivetrain-killing debris.
The full-time all-wheel-drive trucks are powered by a 330-hp Caterpillar 7.2-liter turbo-charged diesel, Allison 7-speed automatic transmission, 30-inch water fording capability, top speed of 74 mph (with high speed gearing), central tire inflation system, multiple 4×4 and 6×6 variants with 80 percent parts commonality, U.S. Army Ultra-Reliable certification, Meritor RF-611 Series axles, and E-Coat corrosion protection.
With specs like those it's not hard imagining the eyes of many a contractor and fleet manager glazing over when seeing one of the bad boys in person at ICUEE. The 15-foot, 10-inch steel and aluminum service body provided by Brutus featured an LED lightbar, a Vanair multi-function system, a Miller welder system and a Cobra crane. You can check out more photos and the full specs of this impressive service truck below.