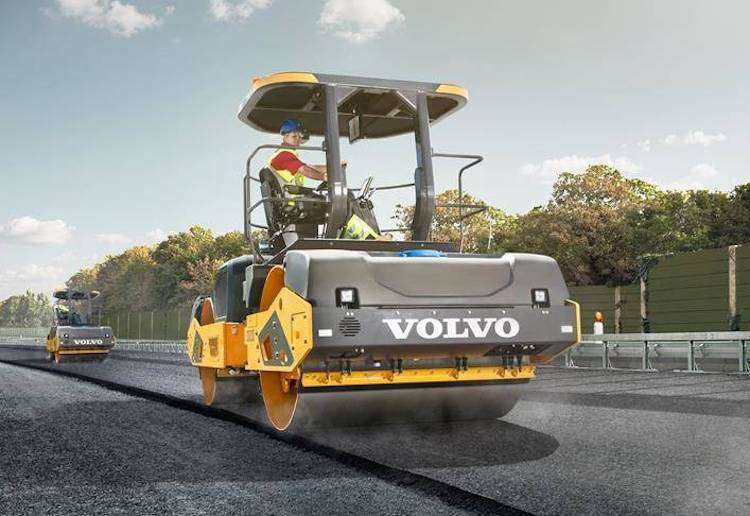 New asphalt compactor models have seeming dominated this year's roadbuilding rollouts, with multiple machines being launched during ConExpo this March.
While many of the new machine features introduced in the past couple of years have either involved intelligent compaction (IC) or Tier 4 Final engine updates, this year's crop of rollers are concentrating on a variety of improvements, including multiple drum and pneumatic options, improved operation features and oscillation.
Mark Eckert, global product manager for Volvo Construction Equipment, says that much of the compaction equipment updates over the past decade have been driven by operator feedback or operator safety (such IC), more sophisticated operator controls and the reduced impact of engine exhaust, noise and vibration to the operator.
One feature making its way into new machines is oscillation. Hamm and Bomag have offered oscillation drums for several years, but it's a new feature for Volvo.
"Oscillation drums are primarily appreciated for their ability to reduce dynamic force for applications where less amplitude is required," Eckert says. "A couple examples are bridge deck overlays, compaction near building foundations or over shallow utilities, where high dynamic force may cause damage."
He adds most manufacturers install an oscillatory drum in the rear with a traditional vibratory drum in the front. Volvo, he says, will be offering oscillation on its DD105 model later this year.
In November 2016, Caterpillar introduced its first oscillatory vibe system on its CB10 asphalt compactor. This feature is available as an option on the rear drum of the machine.
The oscillation was a key feature to add, considering changing trends in the paving industry, says Bryan Downing, Caterpillar sales support consultant for compaction equipment."The oscillatory vibe system compacts differently than our traditional vibratory systems, as it creates compaction through a massaging motion," he says. "This is important in asphalt compaction for thinner lifts. Most of the paving process done today are on thinner lifts, so this system provides a good solution."The amplitude and frequency selections of our conventional systems provide great flexibility on some of the tougher, thicker lifts," Downing adds. "Now combine this with an optional oscillatory rear drum and we can actually create compaction in sensitive areas."
Here's an overview of the asphalt compactors introduced during this year's ConExpo:

Bomag
Bomag's BW 28 RH pneumatic tire roller allow for deeper static compaction and use an enlarged ballast compartment for a high range of operating weight, as well as a higher maximum wheel load, compared to previous models.
The operating weight of the BW 28 RH now extends from 18,960 to 61,730 pounds and the max wheel load is 7,715 pounds. The company says this offers an increased application range from city streets and county roads to interstates and airports.
The ballast can be added with concrete, steel and/or underfloor weights plus water, dry sand or wet sand. Contractors can install four 1,653-pound concrete weights, four 3,307-pound steel weights or two 1,543-pound underfloor weights. Plus, the 106-cubic-foot ballast compartment can hold up to 6,614 pounds of water, 9,920 pounds of dry sand or 13,228 pounds of wet sand.
The machine's eight offsetting tires overlap by 1.3 inches and spread across 80.4 inches. The front axle has three-way pivoting to evenly distribute weight across all the tires, which with an optional tire inflation system can vary in tire pressure from 29 to 116 psi.
The BW 28 RH has a 134-horsepower Deutz Tier 4 Final diesel engine. With its ECOMODE load-dependent operation, the roller provides fuel savings up to 30 percent compared to previous models, Bomag says.
It features a one-piece, tilt-up hood for improved access to service points, and a design that improves visibility to the outside tires and the tops of the tires, the company adds.

Case
Case introduced three new models at the show: the DV209D and DV210D double drum asphalt rollers, and the DV45CC combination vibratory roller.
The DV209D and DV210D offer frequencies up to 4,020 vpm, automatic vibration control, crab steering, oscillating articulated roller joint and pressurized triple-filtration water system. Both models can be outfitted with a vibratory front roller and rear pneumatic tires as an option.
The DV209D has an operating weight of 21,080 pounds while the DV210D is 22,930 pounds. Both have a Tier 4 Final 100-horsepower Deutz engine with a combination of exhaust gas recirculation, diesel oxidation catalyst and selective catalytic reduction after-treatment that uses 15 percent less fuel than previous Case models.
The company says the articulated roller joint can oscillate plus or minus 6 degrees, and the crab steer design gives the read drum an offset up to 6.7 degrees for detailed, precision applications. As an option for both, Case offers a compaction meter to monitor density in real time, as well as GPS mapping for compaction coverage and a printer to print off density results.
For the operator, the company added an adjustable sliding and rotating seat to provide increased visibility of the drums, edges and spray bars. The steering column is tilting and height-adjustable and features a display mounted on the steering wheel to provide operation data, diagnostics and controls.
The DV45CC features a front drum with pneumatic tires and is designed for finish work on small- to mid-sized jobs, such as small parking lots, tennis courts and residential driveways, as well as in applications where space is a limiting factor, such as walkways and bike paths.
The 54-inch offset drum features a tapered edge that allows high curb clearance, is fitted with adjustable scrapers and offers an automatic vibration control system that has automatic or operator-controlled drum start and stop. The machine has an operating weight of 10,296 pounds, and offers standard dual amplitudes of 0.01/0.21 inches and dual frequencies of 2,700/3,420 VPM. The DV45CC features a 40.8-horsepower Tier 4 Interim engine.

Dynapac
Dynapac released a new Generation VI articulated tandem rollers (while still under the Atlas Copco branding) that feature temperature sensors on the front and rear drums to allow for improved temperature management.
This series includes the CC4200VI, CC5300VI and CC6200VI, which will be offered with a three-year subscription of the FleetLink Advanced telematics system. FleetLink records equipment location and working hours and can set multiple geo-fences for single machine or group of machines. The system package includes the hardware, online fleet management portal access and monthly connection package subscription.
The Generation VI machines offer Tier 4 engines and optional rpm-management ECO Mode system the company says reduces fuel consumption by up to 20 percent. Dynapac engineers improved serviceability, by adding LED lights, placing the engine on the rear module, incorporating a large hood that's easier to open and designing the hydraulic hoses to be replaced in segments.
For the operator, the machines feature a rotating, sideways-sliding seatand steering module, a 7-inch LCD touch screen that can display servicing information and lubrication-free steering hitch and steering cylinder.
Dynapac also has introduced a small project tandem asphalt roller with its CC950D, designed for bicycle paths, narrow roads, small parking lots and other hard-to-reach asphalt compaction applications.
The CC950D offers 38-inch-wide drums with a "high clearance" designed to allow it to work near curbs, the company reports. The front drum vibrates at 4,200 vpm, or 70 Hz, while the rear drum is static.
Dynapac added shock absorbers on the rear drum to lesson the impact on the operator, and designed "ergonomically positioned" steps to give the operator more comfortable access. It also features standard foldable rollover protection system (ROPS) framing for low-clearance transport.
The 20-horsepower Tier 4 Final engine is a water-cooled, 3-cylinder, 4-stroke Kubota D722-E4B-KEA-2, which the company says, along with drive motors connected in a series, will provide good "hill-climbing capacity."

Hamm / Wirtgen
The Wirtgen Group introduced several new compactors during ConExpo, including the North American debut of its DV+ tandem asphalt rollers series, expansion of the HD Compactline compact tandem asphalt rollers, new H series soil compactor and the GRW 180i pneumatic tire roller.
The DV+ series, represented in North America by the DV+ 70i VO-S, is available in three versions, including the VV (double vibration), VO (one vibration and one oscillation drum) and VT (combination). All three can be configured as a ROPS version or a cab.
The machines operate with standard split vibration drums and features pivot steering with large turning angles and track offset for "sensitive steering in four steering modes," Hamm reports.
The HD CompactLine features what the company calls a "wasp" waist to allow for its articulated movement. The series includes the new HD 10C VT 39-inch model, which is referred to a "clear side" machine. It can provide compact near walls and high boundaries via inwardly offset suspension of the drums.
The GRW 180i pneumatic tire roller, at a max weight of 18 metric tons (39,700 pounds), is available in four models, the 180i-10, 180i-12H, 180i-15 and 180i-20. The weight of these models is variable depending on the ballast configuration. Hamm offers a range of ready-made weights and has designed the machines to be filled with loose materials to adjust the ballast even more to match the asphalt type, layer thickness and job application needed.

Hyundai
The company's new tandem-drum roller, the HR26T-9, has been designed for use in asphalt paving and maintenance, as well as soil compaction. Typically, single-drum rollers are reserved for soil compaction.
The machine weighs 6,400 pounds and features a 31-horsepower Deutz D 2011 L2i Tier 4 Interim engine and 47-inch drums. It offers front and rear drum scrapers and 55-gallon water-spray systems.
Other standard features include hydrostatic drive, hydrostatic vibration on both drums, automatic vibration mode, spring-mounted operator compartment, ROPS and manual emergency stop switch with a touch sensitive switch at the seat.
The company also has updated four models, the HR70C, HR110C, HR120C and HR140C with Tier 4 Final engines, with the HR70C powered by a Deutz TD2.9 L4, and the other three powered by a Cummins QSF 3.8 engine.

Sakai
Sakai used ConExpo to showcase its new SW754 67-inch vibratory tandem-drum roller and the new cabbed version of its SW994 84-inch vibratory double-drum roller.
The SW754 adds to the company's 770 series and is designed for sub-base and base layers, coarse graded asphalt mixes and thick asphalt lift compaction.
The SW754 features a Tier 4 Final 3.8-liter Kubota engine that can run up to 10 hours without refueling, the company reports. It offers a range of vibration/amplitude settings, from low vibration at 2,500, 3,000 and 4,000 vpm to high vibration at 2,500 or 3,000 vpm.
Sakai says it designed the vibration and driving system control to remain simple, as operators can choose from three throttle positions. The company also improved maintenance on the machine by centralizing locations for common maintenance items and easier access to the engine compartment.
The machine has a 35.4-inch clearance at the curb and a side clearance of 3.2 inches. The maximum operating weight with the rollover protection system (ROPS) is 22,939 pounds. The front axle load is 10,373 pounds and the rear axle weight is 11,563 pounds.
The cabbed-version of the SW994, Sakai reports, is designed to protect operators from extreme weather conditions, as well as provide a quieter and dust-free environment.
The design also was created to offer enhanced visibility through the trim sightlines and wide windows. The company improved the seat as well, incorporating five position settings including front facing to plus or minus 45 degrees and plus or minus 90 degrees that will depend on the working lane. Engineers added a pedal at the lower right side to release a lock while sitting to allow for the seat to swivel.
The SW994 has a maximum operating weight of 31,401 pounds and offers low-profile vibration at 4,000 vpm. The machine is powered by a Cummins QSF3.8 Tier 4 Final engine.

Volvo
Volvo introduced two new asphalt models at the show this year, the DD120C and DD140C.
The DD120C features a 79-inch rolling width, while the DD140C features an 84-inch rolling width. Volvo says these models, which are the largest of the company's asphalt compactors, offer 20 percent more fuel efficiency over previous models via the Volvo D13J Tier 4 Final engine that offers high torque at low rpm.
Both models offer 4,000-vpm vibration frequency and feature a new water flow-rate calibration process an operator can use to set a minimum flow for spraying water on the drums. They also can be outfitted with the company's IC system, Compact Assist for Asphalt with Density Direct.

Wacker Neuson
Wacker Neuson has added 15 tandem and combination rollers to its compaction line, ranging in operating weight from 1.8 to 4.5 tons. This lineup includes 10 tandem double-drum rollers with either oscillation drums or vibration drums, as well as five combination rollers for jobs on steep grades or uneven ground conditions.
The smallest model is the RD18 at 1.8 tons. It is available with either a 31.5-inch drum or 39.4-inch drum and features unilateral drum support that provides clear-sided curb clearance for tight work against curbs or walls.
The RD24 and RD28, at 2.4 tons and 39.4-inch drum and 2.8 tons and 47.2-inch drum respectively, are available in three versions. These options include tandem-axle roller with vibrating drums, combination roller with vibrating front drum and pneumatic tires and vibrating front drum with oscillating rear drum.
The RD40, at 4 tons, features a 51.2-inch drum, and the 4.5-ton RD45 offers a 54.4-inch drum. Both are available as tandem rollers, tandem rollers with an oscillation drum or as combination rollers. These machines have fold-down ROPS as standard.