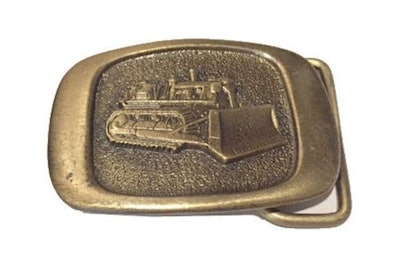 If you're looking for something unique to gift the trades pro in your life, Etsy has a collection of vintage old-school belt buckles.
The bulldozer model from the Staghound Buckles store is made of solid brass and is marked 1983 Chicago. It measures 1-3/4" x 1-1/4", fits up to a 1 1/4" strap and sells for $15.30. Additional vintage buckles in the collection include hundreds of cast pieces with images of Freightliner trucks, Harley Davidson logos, Jeeps, automotive, military and firearms themes.
Another source of vintage belt buckles on Etsy is the TreasureTimeCapsule store that has this classic 1998 Heavy equipment Operators buckle. This pewter buckle measures 2.5 by 3.5 inches and sells for $11.62.