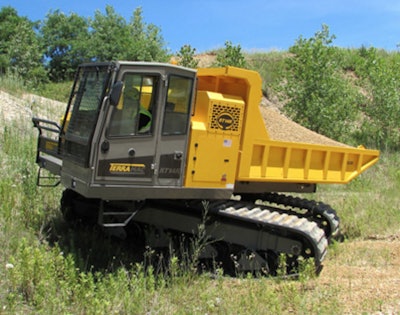 After several months of demonstrating a prototype of its RT14R rotating crawler carrier in a series of "tow and show" events at local dealers, Terramac is introducing the production version of the machine at MINExpo this week.
Designed for jobs that call for the carrier's low ground pressure and high maneuverability in rough terrain, the RT14R features rubber tracks that leave a minimal footprint while providing reduced slippage. The upper frame rotates a full 360 degrees, making it applicable for dam and levee work, haul roads, settling pond construction, site maintenance, waterway restoration and soil reclamation.
Since the rotating carriage eliminates the time the operator spends in reverse, maintenance is reduced and safety enhanced, Terramac says.
The 20-foot-long by 9-foot-8-inch-wide carrier has a wheel base of 12 feet 5 inches. It has a maximum travel speed of 6 mph in second gear and 30 percent gradability when unloaded.
In addition to the RT14R, Terramac offers the straight-frame RT9 and RT14 crawler carriers, which can be configured with a flat water bed and a hydraulic crane to handle drill rod, mud pumps, tanks or other heavy components. Power for the crane comes from the gear pump powering the dump bed, and both units can also be mounted with a spray boom for dust control on tailings ponds.