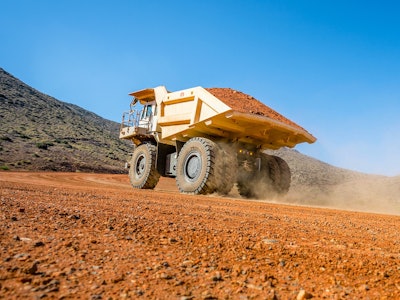 At MINExpo Tuesday, Liebherr unveiled its T 236 100-metric-ton mining truck, in addition to a new D98 diesel engine series.
While not yet commercially available, the company expects pre-series T 236 units to be made available for selected markets.
Using a vertically integrated Litronic Plus Generation 2 electric drive system, the T 236 is designed to run longer between component overhauls. The unit is equipped with a double pole battery, starter motor and hoist system as standard. Liebherr's Litronic Plus isolation system helps ensure the safety of maintenance personnel. The in-line electrical power train layout minimizes cable length. The maintenance-free plug and drive power modules ensure reliable operations in all-weather operations.
The Litronic Plus Generation 2 drive system introduces Active Front End technology, enabling the machine to deliver controlled engine speed with little fuel consumption. The T 236's variable hydraulic system lowers machine parasitics to lower fuel consumption when power is not required.
Liebherr says the T 236 is the first diesel electric truck in its class to incorporate an oil immersed breaking system with four corner retarding capabilities, providing reliable braking technology.
The T 236 can be paired with up to four Liebherr mining excavators, including the R 9100, R 9150, R 9200 or the R 9250.
Engine
The V-12 D9812 diesel, part of Liebherr's new D98 engine series, is making its debut at the show.
Designed and developed in Colmar, France, the engine has a power output of up to 2,700 horsepower and benefits from a modular design. Depending on customer's application requirements, the engine can include specially designed components to ensure optimum performance for a specific application. Typical machine applications include mining trucks, wheel loaders, excavators or other crawler-type vehicles.
The new product range will include three different cylinder variants: A V12, a V16 and a V20.