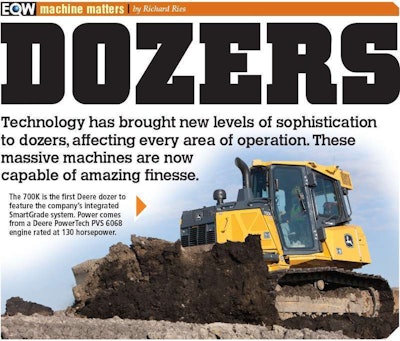 Electronics continue to lead the dozer technology parade, but there have been two big shifts in the way electronics are used. First, nearly all machines offer electronics packages as standard or optional equipment, where these features were once restricted to high-end models. Second, electronics packages come in lots of sizes to fit a variety of needs and price thresholds.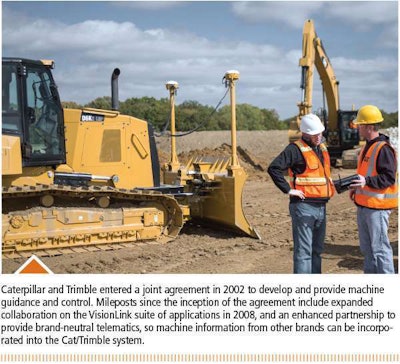 Komatsu came out with its D6li-23 intelligent dozer in 2013, laying claim to being the world's first dozer with fully automatic integrated blade control. It has since expanded its intelligent machine offering to include several dozer models. The model's built-in machine controls allow the machines to be placed in automatic throughout the dozing process, from rough dozing all the way through finish grading.
At Cat, engineers are working on providing scalable technologies that can increase jobsite productivity and efficiency, says Sam Meeker, product application specialist. On the high-end side is the Cat GRADE with 3D, but there's also the new Cat GRADE with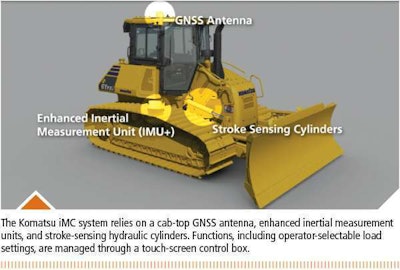 Slope Assist. "Slope Assist is a basic technology that provides entry-level, hands-off automatics. Operators can grade to a target blade slope or mainfall with the push of a button," Meeker says. All of this helps reduce operator fatigue, finish jobs faster and improve quality.
The 700K SmartGrade dozer is John Deere's first with fully-integrated control. Deere teamed up with Topcon to create the SmartGrade feature (as a factory option), which uses Topcon's 3D-MC2 for dozers. The factory-installed option offers several advantages, says Mark Oliver, crawler dozer marketing manager with John Deere. "There are no masts,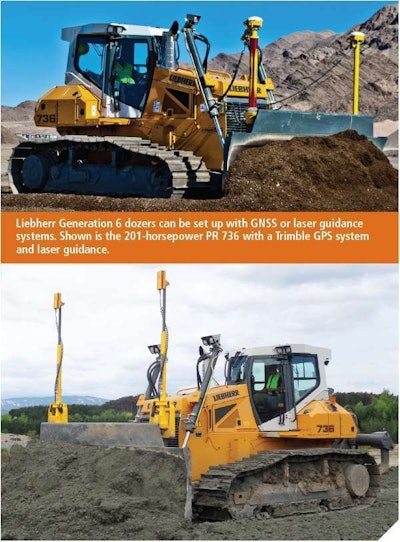 cables, or other exposed hardware. Operations of SmartGrade are part of the JDLink telematics package, so performance assessments and machine diagnostics are simplified." Because the system is built on open architecture, customers can have the main components installed at the factory but use a satellite system from another provider, such as Leica or Trimble, if they prefer.
Different levels of technology come at different levels of investment. Meeker says basic systems may be included in the cost of a machine, while full-featured options may add $100,000 to the cost of a dozer. Meeker says that as add-ons, laser systems cost around $30,000 and GPS systems are about $50,000. He also adds that savings in time, fuel and materials can pay for the technology package in a single large job.
Jason Anetsberger, senior product manager for intelligent machine controls at Komatsu, says there are pros and cons to adding technology packages to existing dozers. Advantages include the ability to move the system to other equipment, and a lower initial investment than buying new machines with integrated technology. Disadvantages include exposing hardware to potential damage during the work day, and the need to install and remove hardware daily to guard against theft and vandalism.
"But the big advantage of an integrated system is that it's monitoring and responding to multiple machine performance parameters," Anetsberger says. "For example, if the system senses track slippage, it will adjust the blade to reduce the load and restore traction. Realistically, you can't rough-cut without this feature. In general, add-on systems can't do this."
Technology offers more sensitive, intuitive control says John Bauer, brand marketing manager for dozers at Case. "New control customizations allow operators to better tailor machine performance to their preferences and the jobsite conditions, such as setting steering and shuttle sensitivity to smooth, moderate or aggressive." Case's 1150M, 1650M and 2050M dozers feature a new electro-hydraulic joystick with improved feel and responsiveness. Fingertip blade shake allows for quick blade cleaning, and a grading mode reduces blade speed by 40 percent for increased accuracy, Case says.
Who benefits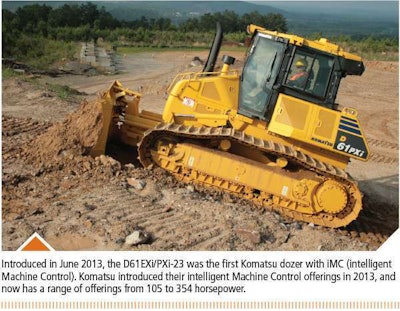 Komatsu's Anetsberger says everyone benefits from machine control technology. "For owners, it's all about the numbers – ROI, production, et cetera. For operators, these systems enable full production. For service personnel, there's a single point of access for everything related to both the machine and the technology, with integrated systems. And since integrated systems are also integrated with telematics, such as KOMTRAX on Komatsu equipment, all this information is available remotely at any time."
Oliver says telematics are essential for obtaining utilization rates. "With John Deere JDLink, owners can tell if operators are using the technology to its fullest." He says experienced operators would only use SmartGrade on the final pass, relying on their skill to manually manage machine operation for all earlier passes. Telematics reveal this, allowing supervisors to help those experienced operators appreciate the benefits of machine control. "Once operators get it, they get it, and they use SmartGrade all the time," Oliver says. This increased use, he adds, makes for happier operators and owners, who want operators to get maximum use from it. Oliver says less-experienced operators are usually more receptive to technology. "Technology such as SmartGrade compensates for common errors among these operators, such as their tendency to overreact to changes in dozer performance in load-and-carry operations," he says.
Even basic technology packages can benefit operators at all levels of expertise, Meeker says. "Our basic technologies, such as StableBlade and Slope Assist, help entry-level operators gain proficiency quickly. Experienced operators finish jobs faster and experience less fatigue, which further improves their productivity."
Other factors
Technology has been critical in helping manufacturers meet Tier 4 Final emissions standards, and here too, market-dependent design specifications are important. For example, Case models 850M through 2050M engines are built by Fiat Powertrain Technologies and use selective catalytic reduction, or SCR. SCR is well-suited for dozers, Bauer says. "It lets the engine run at peak performance under variable loads, without compromising power or drawbar pull. SCR also simplifies maintenance, as there's no regeneration and no DPF to maintain, and also improves fuel efficiency. Some models return fuel savings of up to 14 percent," he says.
On the other hand, the Case 750M is designed primarily for the rental market, and its emissions system uses cooled exhaust gas recirculation and a diesel particulate filter. This requires maintenance of the DPF, but does not require refilling of the diesel exhaust fluid reservoir, which may be overlooked by rental customers, says Bauer. Other technological advances cited by Bauer include pressurized, isolated cabs that reduce dust and noise; expansive glass areas and cab-forward design that provide maximum visibility and direct line of sight to the blade edge and ahead of the dozer; and swing-out panels with pressure-closing latches for improved service access.