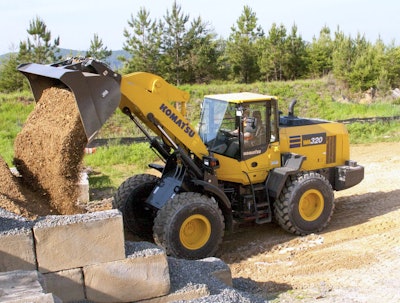 Komatsu has launched the WA320-8 wheel loader, providing updates to the machine which include a more fuel efficient engine and an improved cab.
Powered by a 165-horsepower Tier 4 Final Komatsu SAA6D107E-3 engine paired with a hydrostatic transmission, the machine is equipped with a parallel-lift linkage with auto tilt-in to simulate a Z-bar.
Komatsu says the WA320-8 is designed for use in any application from pallet handling to hard digging.
"The easy-to-control hydrostatic transmission makes the WA320-8 ideal for agriculture and residential applications, but its size and attachment-friendly quick coupler makes it an all-around performer for almost any worksite," said Craig McGinnis, product marketing manager, Komatsu America, in a prepared statement. "It's a multi-purpose utility knife on four wheels."
Komatsu says fuel consumption is 3 percent lower than its predecessor in V-cycle loading and 2 percent lower in load and carry applications. Ninety-eight percent of all diesel particulate filter regeneration is performed automatically with no action required from the operator and no interference with operation.
The hydrostatic transmission features variable traction control and an S-mode which reduces wheel slip in snowy, icy or slippery conditions. The machine also features a creep mode in first gear that is easily controlled via a knob on the right hand console. Creep mode allows the operator to dial in travel speeds between 1 and 8 miles per hour.
Komatsu has also added auto idle shutdown, allowing operators to program a specific idle time after which the engine will shutdown automatically.
Inside the cab, operators will find a new air-suspension, high-back heated seat along with an auxiliary jack and two 12-volt outlets. A 7-inch display is accompanied by a full-color rear-view monitor.
Komatsu has also made the following exterior design improvements to the machine:
Full rear fenders are an available option
Swing-out cooling fan with wider fin spacing and reversing fan eases cleaning.
Sight gauge at DEF fill cap minimizes overfilling.
Gull-wing engine doors give quick access for daily checks and service items.