Caterpillar has announced the launch of hand and foot controls as an available option on its D Series compact loaders.
Cat says the new controls were developed with input from daily hand and foot control users in order to design inputs that allow operators more used to a competitive control scheme to quickly adapt.
The controls include a single-axis joystick with shorter travel compared to traditional hand levers, allowing operators to fully use the armrest during operation. Recessed and adjustable foot pedals add to the comfort level, letting each operator find his or her ergonomic operating angle.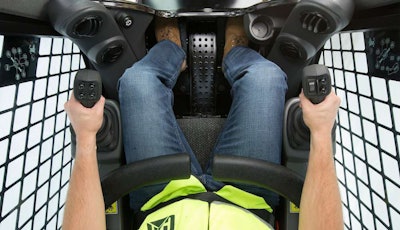 The controls are fully customizable. Unlike most competitive controls, the hand and foot setup features multiple control modes that Cat says allow operators to tailor the drive and implement response to their skill level or the task at hand.
Hand and foot controls will be offered on the following Cat skid steer, multi terrain and compact track loader models:
SSLs
226D
232D
236D
242D
246D
262D
MTLs
CTLs