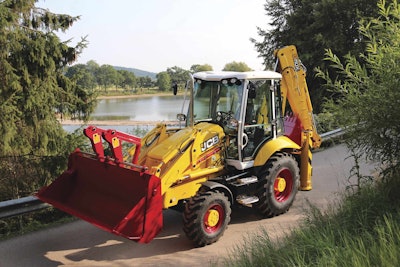 Marking its 70th anniversary, JCB has issued a limited edition 3CX super backhoe loader. Only 70 of these machines will be released with a vintage look last seen 40 years ago on the JCB 3CIII model. While it may look like a 40-year-old machine, these models have all new machine features, plus one we haven't heard of before: an in-cab coffee maker.
The company traces its beginnings back to Oct. 23, 1945, when Joseph Cyril Bamford founded the company in a garage in Uttoxeter, Staffordshire, England, making tipping trailers from wartime scrap. (In fact, the company's present chairman, Bamford's son Lord Anthony Bamford, was born on the same day.) Today the company has 22 factories in five countries and employs 12,000 people.
In 1953, JCB debuted its iconic product, the backhoe loader, combining a hydraulic rear excavator and front-mounted shovel. It remains the company's flagship product; to date, JCB has manufactured more than 600,000 backhoes.
Now a crowd-drawing favorite at U.S. trade shows, the JCB Dancing Diggers exhibition made its debut in 1962. ("Digger" is a British term for earthmoving equipment). Usually set to driving music, machine operators perform choreographed moves that show off construction equipment's hydraulic capabilities.
Click through the photo gallery below to browse additional milestones from the company's past.