Doosan has launched three new Tier 4-compliant crawler excavators to its lineup. The DX180LC-5, DX225LC-5 and DX235LCR-5 replace the Tier 4 Interim-compliant Dash-3 models and add feature performance and comfort improvements to a range of features.
We first got a look at these machines during a media event in the Arizona desert back in March and Doosan has now officially made them available along with a few additional details about each machine.
Specs
The DX180LC-5 is powered by a Perkins diesel providing 129 horsepower. The 43,224-pound machine has a 29-foot 7-inch max digging reach, a 20-foot max dig depth and a 21-foot 3-inch max loading height.
The 22-metric-ton DX225LC and the 23-metric ton DX235LCR reduced tail swing model are powered by Doosan engines providing 162 and 181 hp, respectively. Max digging reach on the 225 is 31 feet, 10 inches, and 31 feet, 7 inches on the 235. The machines feature 21-ft., 7-in. and 21-ft., 10-in. digging depths; 22-ft., 5-in. and 26-ft. loading heights, respectively
A super long reach configuration for additional dig and depth is available for the 225, boosting reach to 50 feet, digging depth to 38 ft., 2 in. and loading height to 35 ft., 6 in.
Smarter power
In addition to four power modes and four work modes, the excavators feature Smart Power Control, a new selectable feature made up of two systems that work together to boost machine efficiency and reduce fuel consumption.
The first, Variable Speed Control, reduces engine rpm during low workload requirements, reducing the total energy required and improving fuel efficiency by between 3 and 7 percent. Second, Pump Torque Control improves machine efficiency by matching hydraulic pump torque and engine response to the job at hand, which prevents engine overload as well as excessive fuel consumption.
Another fuel-saving upgrade to the machine is auto-shutdown. Idle time can be configured for between 3 and 30 minutes, and the feature will shut down the excavator's engine when the preset idle time is met.
New display, design updates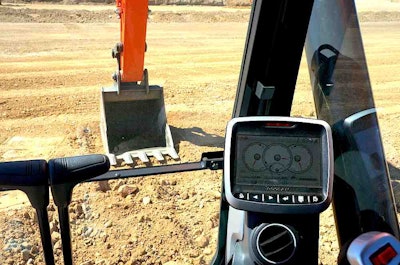 The machines also feature a new and improved 7-inch LCD screen that enables operators to monitor excavator performance data and critical machine diagnostics side-by-side with the rearview or (optional) side-view camera image. When the side camera is equipped, a split-screen view allows the operator to view both the rearview and sideview cameras simultaneously.
Additional machine updates include improved anti-skid plates that allow for easier engine access, a relocated emergency engine stop, improved serviceability, an upgraded alternator and a new front window design that boosts visibility to the work area. Plus, on the 225 and 235, Doosan has added a backfill blade package.
Available factory-installed options include a straight travel pedal, two-way auxiliary hydraulic pedal in addition to joystick control, a diesel powered coolant heater for cold starts, cab guarding for special applications and an intelligent floating boom.
All three machines comes with a standard three-year subscription to the company's telematics service which allows remote monitoring of machine data such as location, hours, fuel usage, engine idle versus work time, error codes and engine and hydraulic temperatures. The system also allows Doosan dealers to respond to machine warning messages and alerts and remotely troubleshoot issues that arise in the field.