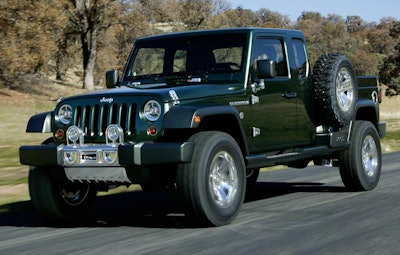 It likely won't have the same Hummer-esque stature as the concept Red Rock Responder shown off earlier this year, but according to a report from Automotive News, Fiat Chrysler Automobiles (FCA) will soon launch an honest-to-God Jeep Wrangler pickup.
While reporting FCA's plans to continue making the current Wrangler at its Toledo, Ohio, plant, AN found out that the Cherokee would be moved to a nearby state, making room for the manufacturing of a Wrangler pickup.
FCA would neither confirm nor deny its plans for a pickup, but AN says the Wrangler pickup is currently under development and would be released in 2017 or 2018.
Jeep's first Wrangler pickup concept was the Gladiator, unveiled in 2005. The truck was built on a Ram 1500 frame and featured Wrangler styling on the front end with a crew cab and full-size bed.
However, AN notes the Wrangler truck under development could be smaller, instead attacking the midsize segment where GM has enjoyed success as of late with the Chevy Colorado and where Ford is eyeing a return with the Ranger.