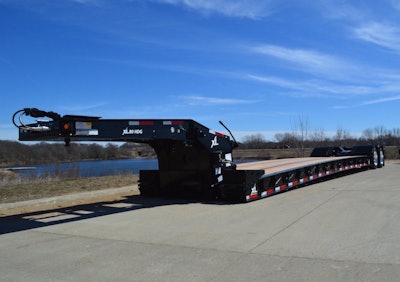 Transport lighter equipment efficiently with XL Specialized Trailers' lightweight XL 80 low-profile hydraulic detachable gooseneck trailer. Rated at 80,000 pounds overall and 80,000 pounds in 10 feet concentrated, the XL 80 has an 11-foot-long hydraulic gooseneck and a design that offers a front-loading advantage.
A five-position ratchet style variable ride height enables adjusting the neck height to adapt to various loads, and the short gooseneck ensures the main deck can accommodate long loads or multiple pieces of small equipment.
The two-axle lowboy is available in three options: a 44-foot, 6-inch overall length with 24 feet in the well; a 46-foot, 6-inch overall length with 26 feet in the well; or a 48-foot overall length with 27 feet, 6 inches in the well.
The bucket well at the rear of the main deck is made from recessed cross members with a plate on the bottom, suitable for an excavator bucket. The boom trough in the rear bridge also has a plate that enables a place for the arm to ride.
The 32-degree rear bridge transition has traction aids for loading, and the 9-foot, 6-inch-long rear deck has a 40-inch loaded deck height and is prepared for a flip axle.
Standard features include 31-inch front flip ramps, 6 bent D-rings per side, chain drops, 12-inch swing-out outriggers on 24-inch centers and raised apitong decking. Optional bolt-on wheel covers are available as load bearing or semi-load bearing and can be removed to reduce weight when the covers are not in use.
The trailer's construction features four 14-inch-tall fully cambered I-beams and 8- and 4-inch stubbed junior I-beams on 12-inch alternating centers. The main deck offers a 22-inch loaded deck height with 8 inches of ground clearance.