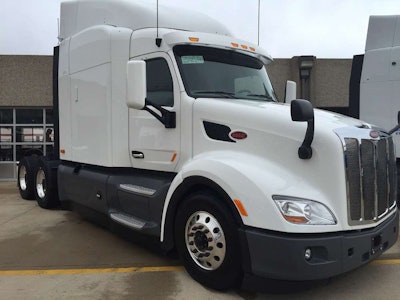 Peterbilt showcased its Advanced Driver Assistance Systems (ADAS) during a Technology Showcase last week at Texas Motor Speedway. The system is a street-capable GPS autopilot that Bill Kahn, principal engineer for Peterbilt, says is accurate to within 5 centimeters.
"It's the stepping stone to autonomous driving," he says.
The truck uses a sophisticated camera system to guide and center itself within the lane, but the software is also capable of learning a route when such markers are absent.
While the truck can adjust its own speed, detect objects in its path and navigate itself toward its destination, Kahn says the outfitted Model 579 test unit—which would be classified as a Level 3 autonomous vehicle—is far from an autonomous truck.
"It still needs the capability to sense what is going on around it," he says of future evolutions in autonomous driving. "… to know when to change lanes, know what's going on up ahead … and those type things."
In a leisurely drive around the infield track at the Texas Speedway, which you can watch in the video below, Kahn was more passenger than driver, letting the truck adjust its own speed and steer itself through the course.
Even with the system fully engaged, Kahn is quick to note that the driver is always in control of the vehicle. Without driver interaction, Kahn says the truck's lane-keeping technology is capable of taking more than 80 percent of the active steering away from the driver.
"The driver is the decision maker in the truck," he says. "At this point, we want the driver to keep his hands on the wheel and stay alert; not necessarily be actively driving the truck, but being alert."
The driver can override the steering system at any time by simply moving the steering wheel. There is also a switch on the dash that can de-activate the system at any time.
Since the track had no lane markers or prior GPS coordinates available to follow, Kahn pre-programmed the route, complete with lane changes, by taking test laps with full control of the truck. On subsequent laps, the truck followed the same path at the same speeds with little, and in some cases no, interaction from Kahn.