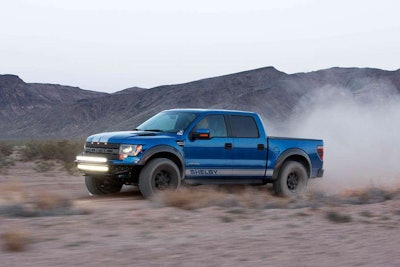 [imagebrowser id=252]
With its new F-150 Raptor Baja 700, Shelby won't be the first to shove ungodly amounts of horsepower into Ford's off-roading pickup, but it will be able to claim having shoved the most.
The custom vehicle shop's latest creation boosts the 2011-2014 Raptor from an already-impressive 411 hp to 700.
The modifications are headlined by paring the Raptor's 6.2-liter V8 with a 2.9-liter Whipple supercharger system. Shelby also includes a Borla exhaust, 3-inch King coil overs and bypass rear shocks, all sitting on top of 18-inc wheels and BF Goodrich KO2 All-Terrain tires.
And if the $45,000 price tag doesn't quite give you everything you were hoping for (which doesn't include the price of the actual truck) Shelby also offers Rogue Racing front and rear bumpers with Shelby logos, a collection of LED lights including a 40-inch Radius beam and electric side steps.
Shelby is only producing 50 of these Raptor Bajas. After that, if you want a Raptor with increased horsepower, you'll just have to wait until next year and the release of the 2017 Raptor which will pack the same engine as the 2017 GT supercar.