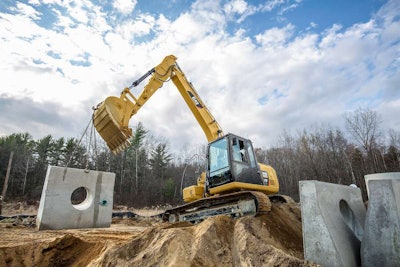 [imagebrowser id=220]
Caterpillar says its new 313F L GC excavator is aimed squarely at those contractors trying to lower their cost per hour.
The 29,300-pound machine is now equipped with a more fuel efficient Tier 4 Final engine that does't require diesel exhaust fluid (DEF) and features a compact diesel particulate filter that requires no maintenance. The 70-horsepower Cat 3.4 B is paired with a one-pump hydraulic system.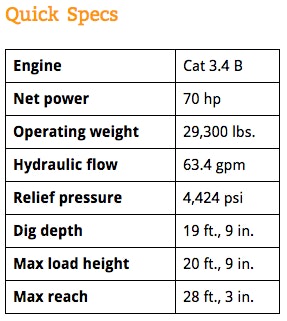 The pairing provides consistent and cost-effective performance by first calculating the amount of demand being placed on the machine before delivering the exact stick and bucket force to do the job. The hydraulics make the calculations through a load-sensing pump and a main control valve.
Further fuel efficiency gains can be achieved through power and economy modes, which allow operators to tailor power to performance, and an idle engine shutdown feature.
Inside the sealed, climate controlled and insulted cab, operators will find an adjustable seat with suspension as well as adjustable joysticks outfitted with auxiliary hydraulic controls. A monitor allows operators to program hydraulic settings for up to 10 work tools.
In terms of serviceability, daily service points are accessible from the ground and Cat says a pilot manifold in the valve block eliminates the need for a pilot pump, filter or lines. The machine's fuel system and manual priming pump also reduce the need for multiple filters.
Cat's ProductLink telematics service is integrated into the machine and provides the ability to remotely monitor up- and idle time, fuel consumption as well as set geo-fences and receive alerts on machine health through the VisionLink web app.
You can watch a video of the machine in action below.