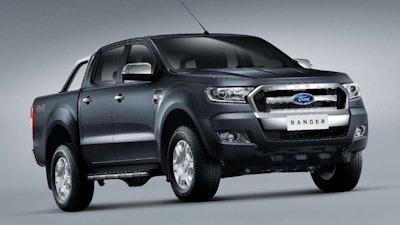 [imagebrowser id=219]
At the Bangkok Auto Show, Ford has unveiled the latest model of its midsize pickup, boasting better fuel economy and an updated look. And it's a combination that makes this whole "not available in North America" thing even harder.
For this 2015 model, the most noticeable change is a new trapezoidal grille and a beefed up hood that gives the truck a much tougher look.
But the big sell for the Ranger reminds the fact that it's offered with three engine options, two of which are diesel. The headliner is a Duratorq 3.2-liter, 5-cylinder diesel pushing 197 horsepower and 347 lb-ft. of torque. The remaining options are a 2.2-liter diesel and a 2.5-liter gas engine which produce 158 hp/284 lb-ft. of torque and 164 hp/166 lb.-ft. of torque, respectively.
Each of the engines are paired with a 6-speed manual or automatic transmission. When equipped with the 3.2-liter diesel, the truck sees a fuel economy improvement of up to 18 percent with this latest model.
As you can see in the gallery above, the truck features a very slick interior. Driving features include a lane keeping system, adaptive cruise control and alert system that can wake you up should you doze off while driving or warn you if it notices any other bad habits thanks to a set of motion sensors and an in-cab camera.
Ford discontinued the Ranger in the U.S. in 2012 citing a lack of demand for midsize pickups. In the time since, the manufacturer has worked to make its full-size F-150 more fuel efficient, shedding 700 pounds with an aluminum body and equipping it with a fuel-sipping 2.7-liter EcoBoost V6. The work has paid off: the 2.7-liter F-150 has a 26-miles-per-gallon highway rating and is now the most fuel efficient, gas-powered truck in its class.
However, competitor General Motors has made some inroads as of late in the midsize class with its redesigned Chevrolet Colorado and GMC Canyon pickups. Beyond getting impressive mileage itself, the Colorado upset the F-150 for Motor Trend's most recent Truck of the Year award. Plus, GM has plans to release a diesel option for both the Colorado and Canyon later this year.
Ford's vision for the F-150 seems pretty set in stone but it's not too much wishful thinking to believe GM's resurgent midsize trucks might put enough pressure on Ford to bring a new Ranger back to the U.S. At least, we hope not.
You can watch a video on the new Ranger's features below.