[imagebrowser id=208]
At a special press event at its North American headquarters in Savannah, Georgia, Thursday, JCB unveiled a machine the company feels will "reinvent the marketplace" for compact excavators.
The new 100C-1 is a 10-metric-ton (11-ton) compact excavator and is the largest JCB has built to date. The machine has an operating weight of 21,458 pounds, a maximum bucket tearout force of 16,231 ft.-lbs. and a dipper arm tearout force of 9,510 ft.-lbs.
The machine is built on the frame of the 86C-1, an 8.6-metric-ton compact excavator introduced at ConExpo last year. However, the 100C-1 boasts a more powerful 74-horsepower engine, made by Kohler under JCB's "JCB Diesel by Kohler" partnership which provides power for several models of the company's compact equipment.
The 100C-1 has a rear overhang that, at 18 inches, is 4 inches larger than the 86C-1. The 100C-1 also has a 10 percent longer boom than the 86C-1 and more hydraulic capacity for higher levels of performance, said David Timmis, a JBC product specialist for compact excavators.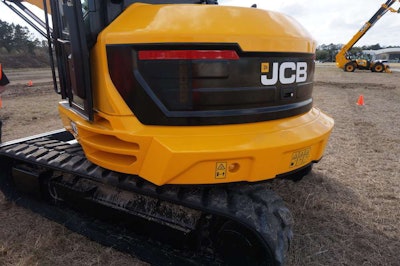 The longer equipment amounts to a maximum digging depth of 15 feet, a dump height of 18 feet, 6 inches and a reach at ground level of 24 feet, 4 inches, according to JCB specs.
Tim Burnhope, JCB's chief of Global Innovation and Growth said the company is introducing the machine after seeing more and more demand from customers in the U.S., United Kingdom, France and Germany. He said the machine serves as a great sweet spot for those wanting a powerful, but compact machine.
"People really do want a more compact machine," he said. "We see demand for the 13-ton plus outside the urban environment in more open areas…But the 10 ton is going to reinvent this market place. In the near future, the 8- to 10-ton range will be very important."
The 100C-1 sits on an H-pattern track frame that sheds mud and dirt for easier cleaning. The machine also features a 30-degree tilting cab that gives easier access to service points.
Inside the cab, operators will find a color LCD (a rear view camera is optional), storage, 12-volt USB charger, cup holder and a new heating a ventilation system (air conditioning is optional) that improves airflow within the machine. JCB says the ventilation system also helps clear fog from the cab's glass faster on those colder mornings.
Operators also have access to an auto idle feature and two digging modes: ECO mode for fuel efficiency and Heavy more for better productivity. Operators will also be able to program specific hydraulic flow settings for attachments using the display for quick changes.