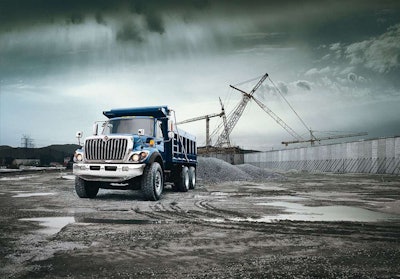 International Trucks announced that it is taking its onboard computing capabilities to the next level in its vocational truck line.
At the Work Truck Show in Indianapolis today, International unveiled new body controlled modules called Body Builder. The new system works in conjunction with International's Diamond Logic electronic platform.
According to Carl Webb, Vice President of International's medium-duty vehicle business, the new system introduces more powerful and flexible electronics to the medium-duty line with an emphasis on streamlining body builder installation and electric demands.
The new design will deliver six times the current processing speed for truck and body electronics, add sixteen more input/output slots for equipment manufacturer, and provide three additional data links to expand truck capabilities.
Production of the new design is slated to begin in November.
As a result of the new body control module design, new Diamond Logic features will be made available to increase uptime for customers. These new features include:
Intelligent Start—single ignition activation on the key is all that is required and the vehicle will manage starting the engine automatically. The starter motor is disabled the moment the engine starts, which prevents over cranking and overheating to extend starter life.
Programmable Real Time Starting—International trucks can be programmed to start prior to the driver's arrival at specific time each day, ensuring the vehicle is warmed up and ready for operation. With real time starting, drivers can save time and effort, and fleets can increase productivity.
Auto Start-Stop—Auto Start-Stop not only reduces idle time and saves on fuel but allows vocational customers to recharge batteries automatically, or heat the cab for drivers without continuously running the engine.