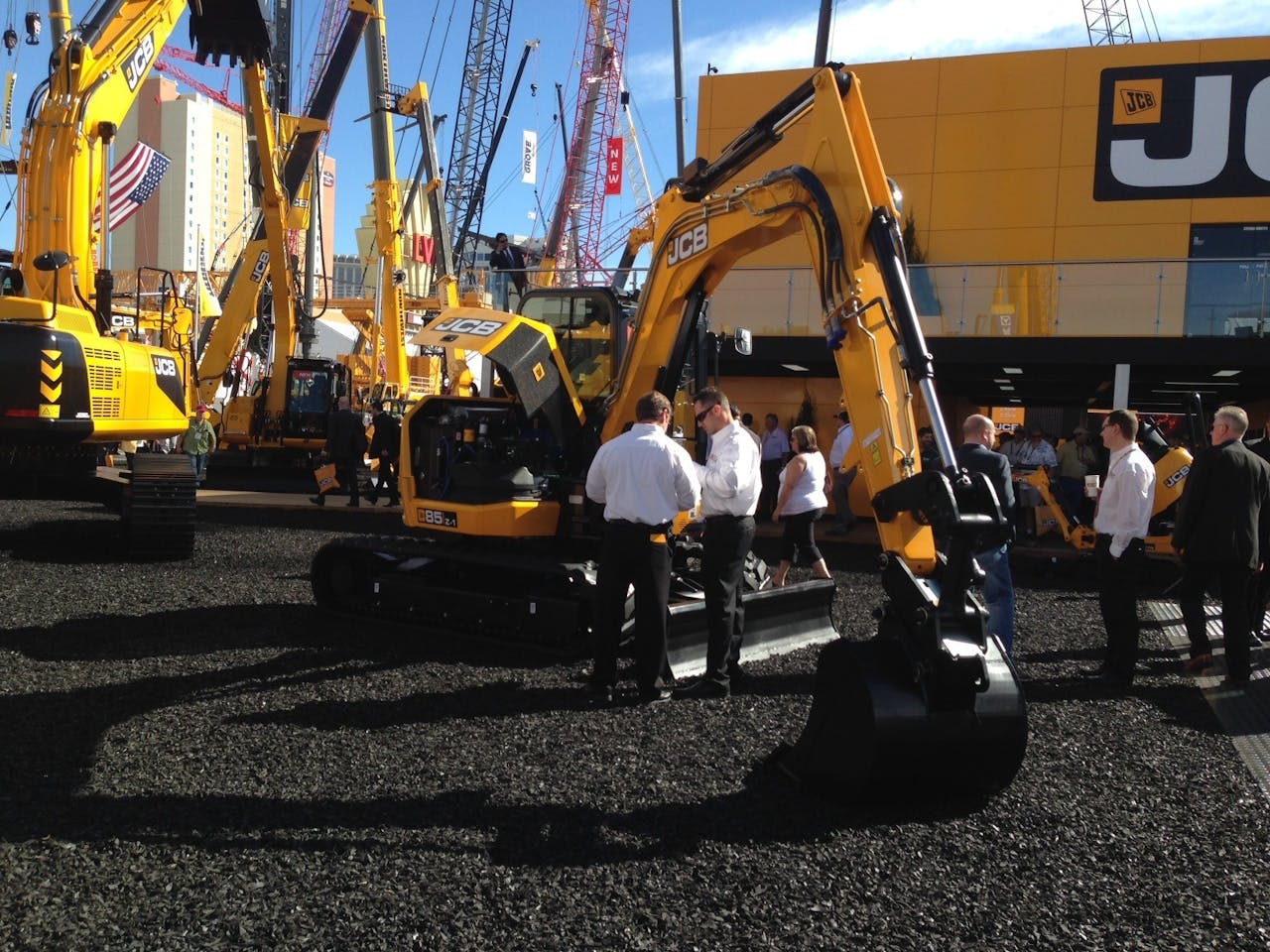 JCB never wastes a news conference, and it's phalanx of introductions today proved true to form. 
The machine intros include the 8018 and 8029 compact excavators. The 8029 CTS, for conventional tail swing, has a 25 horsepower engine and a tail swing just  18.5 inches longer than the 8025 zero tail swing machine. With a 10-foot dig depth, the machine has a load over height of 10 feet 6 inches.
The company says there are "radical" changes for the 67C-1, 86C-1  and 85Z-1 midi excavators, powered by 55- and 64-horsepower Kohler by JCB diesels, using up to 10 percent less fuel than previous models. The machines have the company's 2Go hydraulic safety system, currently offered on larger excavators. In addition to the standard hydraulic cut-off activated by lifting the left hand lever pod, the operator is required to activated the hydraulic system through a button on the right-hand console.
Four new telehandlers have been added to the company's Loadall lineup, including the 516-42, offering a hefty 16,000-pound capacity, and aimed primarily at the North American oil and gas sector. "This is our highest capacity Loadall," says Tim Burnhope, chief innovation and growth officer. It features a stronger, 3-stage boom with a heavy-duty inner section, and 3.1 inch diameter lift rams.
The company's 3CX Super and 4CX Super backhoes now come with an Automate feature, which gives the machines auto idle, throttle lock (which the company says works like a cruise control for roading), and throttle control, which lets you quickly transition back to preset engine revs after idling. "There's no need to reset it every time," Burnhope says.
Designed specifically for the North American market, the VM117D double drum soil compactor has a 125 Ecomax engine, weighs 11 tons and comes with optional padfoot shells and leveling blade.
The company cites the familiar "cautiously optimistic" phrase when viewing the 2014 global market. "North America will certainly carry on growing, although at a modest rate," said Graeme MacDonald, JCB CEO. "We're in a position to grow, and by next year we will have five warehouses in the U.S., including our newest one in Texas." Globally, JCB says it has 22 plants, 770 dealers and 2,200 dealer depots.