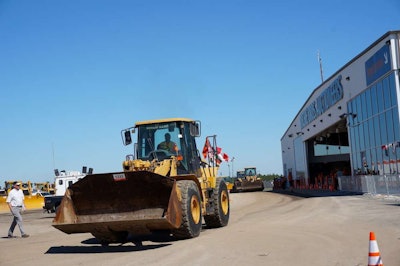 Ritchie Bros. Auctioneers announced that its big Orlando auction has once again broken records.
During the five-day unreserved public auction last week, the company sold more than 10,500 pieces of equipment and trucks, generating more than $179 million. Of that total, a record-breaking $66 million was generated from online buyers.
The totals reflect 8-percent growth in total proceeds over last year's auction and a 2-percent increase in online sales.
The event hosted 875 sellers, more than 9,350 bidders, more than 5,000 online bidders, more than 2,650 buyers and more than 1,300 online buyers—all new records.
The auction included the following selection of equipment:
more than 450 excavators
more than 270 wheel loaders
240 crawler tractors
310 truck tractors
more than 500 compactors
more than 200 van trucks
more than 90 dump trucks
The auction attracted buyers from all across North America and from 81 countries across the globe, including buyers from Australia, Ecuador, Thailand, Italy, the United Kingdom and the United Arab Emirates.