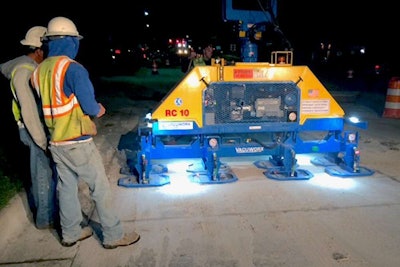 Few concrete highway slabs slated for removal are pristine rectangles. Most are riddled with potholes, surface imperfections and of course, expansion joints, all of which make it hard to create a vacuum seal, decreasing the likelihood of using a vacuum lifting device with a rectangular pad.
"There are just too many places for the air to escape," explains Scott McMaster, director of regional sales with Vacuworx.
At the recent World of Concrete show, Vacuworx introduced its Octapad System, designed specifically to address this problem, a problem that became apparent one night when the company was demonstrating one of its vacuum lifts on a highway job.
"We were only able to get a vacuum about half the time because of the road imperfections," McMaster relates. "That night, we sat on the side of the road and brainstormed with the contractor on how we could make it work," he says.
Vacuworx came to the conclusion that multiple, smaller pads were the answer. Each of the Octapad's eight 18 x 24 pads has a vacuum valve, which can be turned off if a pad is over a problem area. Only six of the eight pads need to be operable for the attachment to achieve a vacuum. "So if we do lose a pad because of a pavement problem, we can still lift," McMaster says. The Octapad can lift reinforced slabs up to 6-feet wide by 12-feet-long by 12-inch-thick, and weighing up to 16,588 pounds.
"The ground man really makes this work," McMaster says. "He determines which pads need to be shut off, if necessary."
Two different size pads are now available for the Octopad: 18 x 24 and 18 x 30. The attachment works with the firm's RC 10 lifter, and has a 360-degree hydraulic rotator and wireless remote operation. A LED lighting package is available for night work.
Comparison with traditional slab removal
McMaster says the Vacuworx system is an efficient alternative to the way these slabs are traditionally removed, which typically involves saw cutting a slab, then drilling four holes into each corner of the slab, attaching cables into each hole, chaining them to an excavator bucket, and using the machine's hydraulic power to pry the slab loose and lift it to the side of the road. A wheel loader with forks then picks up the slab and puts it in a truck.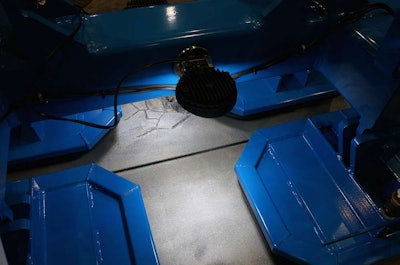 "It's a multi-step process that involves a lot of machinery and manhours," McMaster says. And he points out time is critical on today's road jobs, since contractors are typically allowed a set number of hours each day to do the job.
In comparison, VacuWorx says the Octapad eliminates the drilling and chaining, and the attachment – usually mounted on a wheeled excavator — can directly load the slab into a truck, eliminating the use of a wheel loader. "The vacuum comes in and pulls it clean," McMaster says, leaving an area ready for new pavement.
Vacuworx took the unit out in beta test—with the same contractor as before, using the same lifter and a similar crew—"and our success rate went way up, even though the road was in terrible condition, with patches over patches," McMaster says. Some of the slabs broke during the lift, but stayed on the Octapad, he reports.