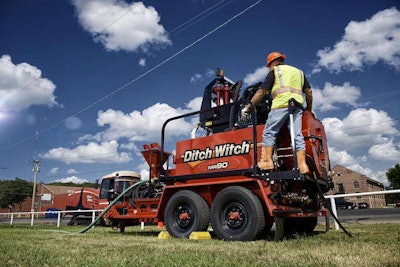 [imagebrowser id=161]
Boost profits by reclaiming, recycling and reusing drilling mud with Ditch Witch's MR90, a self-contained mud recycler that can be transported while the unit is full of fluid – the only unit of its kind with this capability.
Powered by a 25-horsepower Kubota Tier 4 engine, the MR90 has a 450-gallon mud tank – a 110-gallon clean tank and 340-gallon first-pass mud tank. Each tank has a 3-inch connection at the drain to enable vacuuming mud for reduced jobsite cleanup. A 300-gallon freshwater tank not only enables for extra drilling fluid capacity but also allows for equipment cleanup.
The MR90's two-screen system, combined with 6 2.5-inch hydrocyclones, ensures the mud is extra clean for reuse. The easy-to-service screens are also simple to change, and hydraulic leveling, paired with a hydraulic jack on the tongue of the trailer, provides fast setup for increased efficiency. The unit also features a rear onboard hopper that catches all screened spoils, and an integral mixer that enables the operator to mix drying additives into the spoils.
An automatic pit pump control incorporates a float sensor that is automatically turned off when the recycler is not manned, preventing overflow. The MR90 also offers single-point operation, as controls can be reached from the onboard catwalk or from ground level.
An onboard high-pressure wash pump is included for cleaning equipment. Available options include remote control of the pumps, which simplifies machine operation for smaller crews and a commercial grade 14,000-GVWR trailer with LED lights, hydraulic jack and integral tool storage.