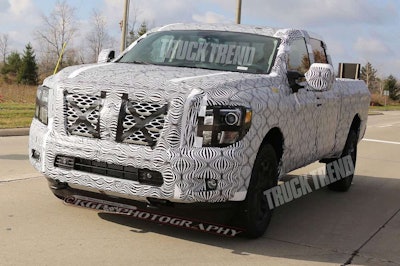 [imagebrowser id=157]
A couple weeks ago, we got a quick, blurry glimpse at the redesigned next-generation Nissan Titan in a video from the automaker. But thanks to the sleuthy spy photographers at KGP Photography, we've gotten a very clear and up close look at the Cummins-powered pickup.
Though the truck was camouflaged for this test run the new design should be fairly apparent to anyone who has seen a Titan in the last five years. The truck appears to have a wider body and the grille design is not only more imposing but should definitely be more appealing to U.S. customers than the current-gen's softer, sloped look. And it might be just our eyes playing tricks on us, but this new Titan looks a bit taller than the current model with a thicker body.
Nissan will unveil the truck at the Detroit Auto Show next month. The pickup will feature a Cummins 5.0-liter V8 which you can read more about here. Given Nissan's bottom-dweller position in the hierarchy of U.S. truck sales, the next-gen Titan has considered quite a bit of buzz, including rumors that it may even contend for a best-in-class towing title.
Via: Truck Trend