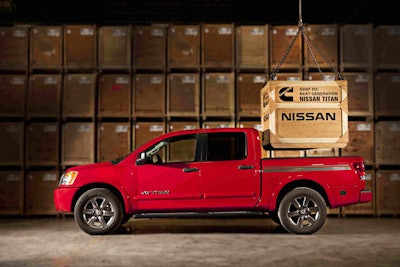 According to the fine folks at Truck Yeah!, Nissan is doing one of two things with its next-generation Nissan Titan: 1) the automaker will shock everyone and introduce a 3/4-ton to its lineup, or, 2) this new-and-improved Cummins-powered Titan will be going hard after the towing title in the half-ton class.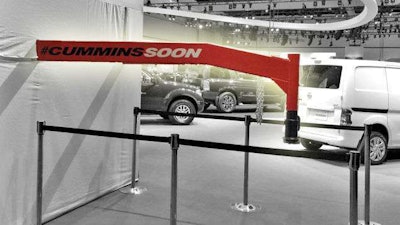 This is all based on what the site's Andrew Collins saw at Nissan's LA Auto Show booth last week, specifically a gooseneck trailer with "#CUMMINSSOON" printed on it, indicating that whatever size the next-gen Titan is, it will be capable of hauling a pretty heavy load.
Last summer Nissan announced its plans to drop a Cummins 5.0L V8 Turbo Diesel engine into the next Titan. The engine is expected to make between 310-325 horsepower and more than 570 lb.-ft. of torque, with 30- to 40-percent better gas fuel economy than the current 5.6L Titan gas engine.
And since it's a bit hard to believe that Nissan is ready to go head-to-head with Ford, GM and Ram in the 3/4-ton segment, the more likely scenario is that Nissan is trying to pack 3/4-ton towing numbers into a half-ton frame. We don't have much a wait to find out left. Nissan will unveil the new Titan in January at the Detroit Auto Show.