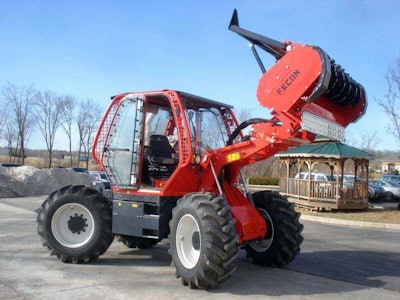 Fecon has launched the new RTF230 rubber tire mulching tractor, featuring a 230-horsepower engine and 75-gpm, 6,000-psi flow to the hydraulic or PTO attachment.
The four-wheel-drive, four-wheel-steer machine has a center mounted engine and hydraulic drive train for a low center of gravity and even balance, and easily handles climbing slopes. The RTF230 can achieve road speeds of up to 24 mph, and is capable of boom and crane mounting, mechanical or hydraulic PTOs and 3-point hitches both front and back.
The RTF230 has a large cab to provide operator visibility in all directions. The unit can be configured for land clearing, municipal maintenance, snow removal and roadside clearing as well as a range of construction applications.