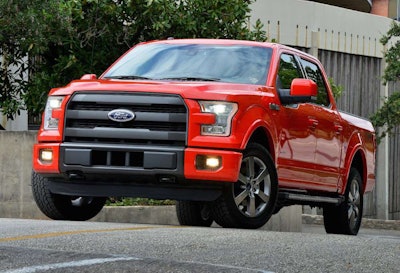 Ever since Ford's unveiling of the 2015 F-150, the truck's aluminum body and the addition of a 2.7-liter EcoBoost V6 to the available power options have had us all eagerly awaiting just what type of fuel economy this new truck would get.
That aluminum body shaves 732 pounds off the F-150's previous weight and the fuel savings were something each of the construction professionals we talked to about the new truck said makes the truck a must-buy for them. And that was before they had even seen the fuel economy numbers.
Well, the wait is over as Ford has released those figures weeks before the 2015 F-150 is set to start appearing at dealerships. As expected the 2.7L EcoBoost steals the show, posting the best fuel economy numbers ever seen from a gas-powered half-ton with 19 miles per gallon in the city, 26 mpg on the highway and 22 mpg combined on the two-wheel drive F-150.
Just to give you an idea what just seven years of engine technology improvements can make, the 2.7L EcoBoost not only adds 5/7/6 mpg in the city/highway/combined over the 2008 F-150 with a 4.7L V8, it also adds 77 horsepower and 81 lb.-ft. of torque. You can see all of the figures Ford has offered up, comparing the 2015 F-150 to both previous models and current competition below.
On the four-wheel-drive F-150, the 2.7L EcoBoost's fuel economy drops slightly to 18/23/20 mpg. Meanwhile, the 3.5L EcoBoost gets 17/24/20 mpg on the 2WD model and 17/23/19 on the 4WD.
The other 3.5L V6 available for the 2015 F-150, the Ti-VCT, gets 18/25/20 mpg on the 2WD and 17/23/19 mpg on the 4WD while the 5.0L V8 gets 15/22/18 mpg on the 2WD and 15/21/17 on the 4WD.
2.7L EcoBoost V6 fuel economy comparison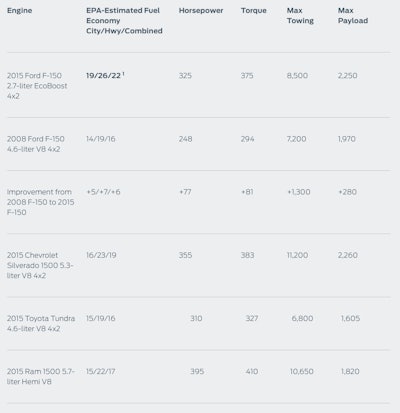 3.5L EcoBoost V6 fuel economy comparison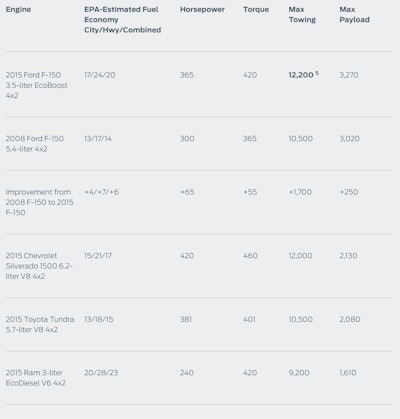 3.5L V6 fuel economy comparison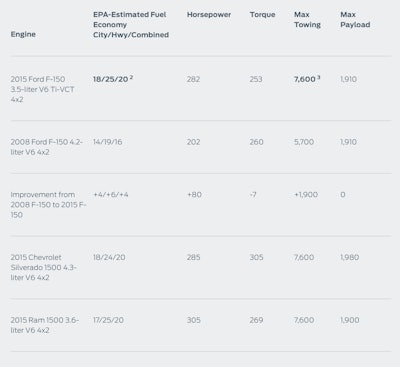 5.0L V8 fuel economy comparison
2015 F-150 lineup fuel economy comparison