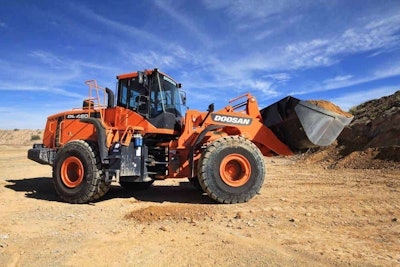 [imagebrowser id=151]
Doosan has launched their first Tier 4 final-compliant wheel loaders with the introduction of five new models—the DL300-5, DL350-5, DL420-5, DL450-5 and DL550-5.
Replacing the previous models, which were Tier 4 interim loaders, the five new loaders are powered by Scania diesel engines optimized for use with a high-pressure common-rail fuel delivery system and cooled exhaust gas recirculation system. A diesel oxidation catalyst reduces particulate matter, and a selective catalyst reduction aftertreatment system reduces NOx.
To achieve Tier 4 final standards, a mass airflow sensor and exhaust brake were added. The sensor allows the electronic control unit to improve airflow from the variable geometry turbocharger, as well as optimizing fuel delivery based on engine air intake volume and rpm. The exhaust brake boosts operating efficiency by maintaining consistent engine temperatures at lower engine speeds to reduce emissions.
Operators can choose from three work modes with the new loader line. Economy mode is suitable for low-demand applications, and slows down machine movement for jobsites that require precision work, as well as reducing fuel consumption. Standard power mode is designed for everyday digging, grading and lifting jobs, and balances fuel consumption and power. Power mode is useful for truck loading and difficult digging jobs, and provides the highest combination of power and performance.
Added features
While upgraded the machines to Tier 4 final standards, Doosan took the opportunity to enhance a number of loader features, including the operator's cab. A new adjustable steering column provides more leg room and floor space than previous models. A new fuel consumption gauge allows the operator to view, in real time, how much fuel the machine is suing. The dashboard keypad has been updated, and operator visibility has been improved. The loaders' auto-shutdown system can be configured for idle times between 3 and 60 minutes.
Easy serviceability
A new air cleaner has longer replacement intervals, and additional oil sampling ports may be monitored from the cab via the loader's dash panel. An auto-greasing system, available as an option, replaces daily greasing and extends bearing bushing life, as well as eliminating under- and over-greasing.
The wheel loaders come standard with a 3-year subscription to Doosan Telematics, which assists fleet managers in not only assisting with maintenance monitoring and troubleshooting machine issues, but also remotely monitors machine location, hours, fuel usage and more.