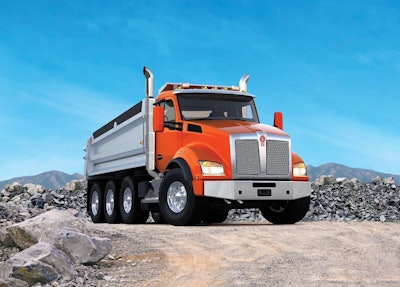 Kenworth today announced a natural gas option for the the company's flagship T880 vocational truck.
The Kenworth T880 day cab and 52-inch mid-roof sleeper models can now be speced with a factory installed Cummins Westport ISX12 G 400 horsepower natural gas engine. The powerplant pushes out 1,450 foot-pounds of torque and mates to a  manual, automatic or Eaton UltraShift Plus transmission options.
The T880 natural gas models will work well in dump trucks, mixers, refuse, pickup and delivery vehicles with up to a maximum of 80,000 pound gross combined vehicle weight. Natural gas vehicles are ideally suited to applications where the truck returns to the yard or refueling station every day.
A big benefit of the clean-burning Cummins Westport engine is that it can run on compressed natural gas or liquified natural gas and uses a maintenance-free, three way catalyst that does not need diesel exhaust fluid, diesel particulate filters or selective catalytic reduction technology.