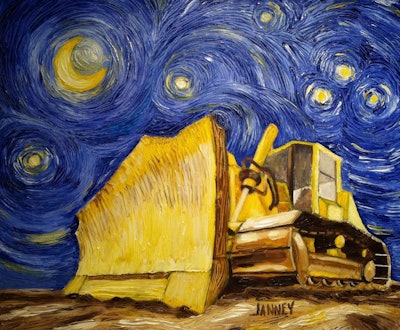 If you're looking for a novel piece of art for your office or home, something that reflects who you are and what you do, Rich Janney may have just what you need. He paints construction equipment with backgrounds reminiscent of classic Van Goghs.
The paintings, "Quarry Night" and "Vincent Van Dozer," come as rolled paper prints, stretched canvas or framed prints from 8 X 6.75 inches all the way up to 40 x 33.75 inches. You can even order a coffee mug with the images on the side.
Janney says he never took any formal art training but was obsessed with drawing as a kid, producing comic strips and cartoons, and started painting only in the last ten years. His interest in heavy equipment started with his grandfather who drove a semi-truck and an uncle who ran a concrete plant.
But once he saw how excited his two sons were watching heavy equipment running on the side of the road he his love of the big stuff was rekindled. "One day we were watching a excavator do its thing and I just realized how beautiful they really are…completely amazing," Janney says.
So Janney combined his interest in yellow iron with an appreciation for Vincent Van Gogh to produce these two works. Janney says he can do special order original recreations of these two in oil, which gives you more texture and depth. He also does custom-order paintings if you have a particular machine or background you're interested in.
"I have three projects lined up already. One customer owns a construction company and is having me do a painting of one of the pieces of equipment they use the most," Janney says.
For information on print prices and sizes, go to: www.artpal.com/janneyrichard/
For custom orders contact Janney at: [email protected].