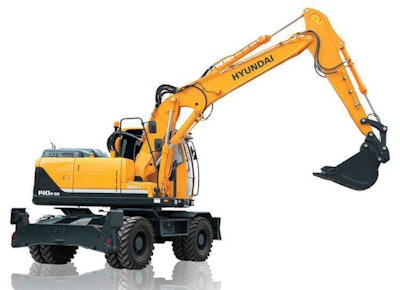 Hyundai Construction Equipment Americas has expanded its 9A series with three wheeled excavators: the R140W-9A, R180W-9A and R210W-9A. The machines include upgrades to the hydraulics, cab and durability.
Each mid-size excavator is powered by a Cummins QSB6.7 Tier 4 Interim engine with electronically controlled fuel injection, diagnostic capabilities, variable speed fan clutch and a two-stage auto decel system. Three engine modes — Power, Standard and Economy — allow the operator to toggle between full power and reduced fuel consumption.
The redesigned hydraulic system offers super fine touch and controllability, while improved pump flow is designed to minimize fuel consumption and the revamped spool valves offer better flow to each function with less effort. The machines also include other enhanced features such as hydraulic valves, precision-designed variable volume piston pumps, fine-touch pilot controls and travel functions.
The excavators have an auto boom-swing priority feature designed to improve hydraulic flow balance for the boom and swing motions.
The travel system in each machine now includes an auto cruise control system that aims to reduce operator fatigue by maintaining a fixed speed during long drives, an auto ram lock system that locks or releases the ram cylinder depending on operating mode and a creep speed travel system that aims to improve maneuverability and fine control.
An optional forward/reverse travel pedal is also available and provides operators the choice of using the travel pedal control or the lever according to mode.
Cab improvements include the addition of stronger, slimming tubing; low stress, high strength steel in the upper and lower frame; and better visibility due to the larger cab design and the clear, open interior. An optional Roll Over Protective Structure (ROPS) cab is also available.
Other cab features include adjustable seat, console and armrest settings; adjustable air suspension; height-adjustable joystick consoles; heated seats; improved climate control system; an audio system with USB player, AM/FM stereo and MP3 capabilities; and a redesigned 7-inch color LCD display cluster that shows maintenance items.
An optional Smart Key System enables the operator to push a button to start the ignition. The machine is also available with an optional rear-view camera.
Wide open compartments and ground-line access to several key areas simplifies maintenance. The machines also come with bushings designed for lube intervals of 250 hours; wear resistant, noise reducing polymer shims; extended-life hydraulic filters (1,000 hours); long-life hydraulic oil (5,000 hours); cooling systems with improved efficiency; integrated preheating systems; and Hyundai's Hi-mate Remote Management System.
Quick Specs
Editor's Note: Amanda Bayhi is the online managing editor for sister sites Better Roads and Aggregates Manager.