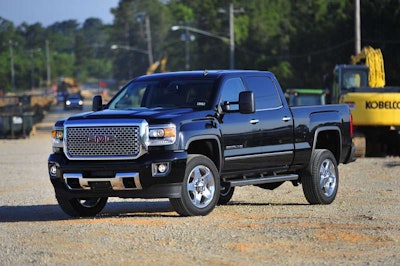 [imagebrowser id=106]
It has more power under the hood than most big rigs and an interior that's as refined and quiet as many luxury sedans.
Like a heavyweight kickboxer dressed out in a tux, the black 2015 GMC Sierra 2500HD Denali 4×4 looks stylishly strong with fierceness ready to be unleashed at a moment's notice. That combination of style and raw power is what sets GMC's Duramax-powered flagship apart from lesser-equipped heavy-duty Sierras.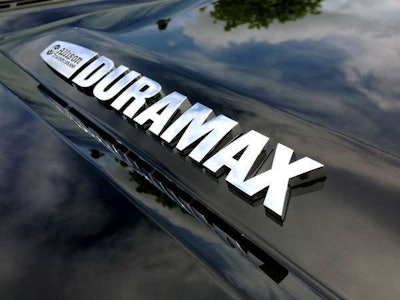 Built in Flint, Michigan, the 2500HD Denali is the trim-level anyone who wants to make the luxury work truck statement would find very appealing. GM's vaunted 6.6L Duramax, which is now making 397 horsepower and 765 lb.-ft. of torque, is backed by the same Allison 1000 six-speed automatic that has been the ideal powertrain marriage since they were paired up back in 2006. The Duramax/Allison package delivers the smooth, strong performances serious pickup buyers want and need.
The Crew Cab 4×4 Denali I tested has the 3.73 axle ratio that's standard with the diesel option package ($8,845), as well as the optional 20-inch forged aluminum wheels ($850) shod with Goodyear Wrangler SR-A ($200) street tires.
The 6,900-pound truck turned impressive numbers at Gulfport Dragway where I do most of my track testing. It hit 60 miles per hour in 7.8 seconds and tripped the quarter-mile trap in 16.0 seconds at 86.4 mph.
In comparison, those numbers are better than recent Ram and Ford 2500 diesel and gas 4×4 models we've tested, and best even the lighter GMC Sierra 1500 4×4 5.3Ls we've run.
From a work/recreational perspective, the Denali 2500HD is built for towing, whether short distances or cross-country. It has the power, and GM now certifies its 13,000-pound trailer weight rating under SAE J2807 specs with or without using a weight-distributing hitch.
The Denail can also carry up to 17,400-pound fifth wheel or gooseneck trailers, and haul up to 3,082 pounds in the bed as long as the Gross Cargo Weight Rating (GCWR) doesn't exceed 24,500 pounds.
Fuel economy is another area I find the Sierra 2500HD impressive. I drove the Onyx Black crew cab over a 110-mile interstate test loop at 70 mph where the Duramax averaged 19.3 miles per gallon. Driving it around town the fuel economy hovered north of 15.1 mpg. Those numbers give it a cruising range of roughly 700 miles and 540 in easy city driving.
Typically, spending that amount of seat time in some pickups isn't my idea of a good time. But that's not the case in the Denali package. The interior design and packaging is first class. It's roomy and comfortable. It's also very quiet—unless, of course, you crank up the Bose sound system.
Storage is abundant with the center console big enough to swallow file folders or a laptop, and enough smaller pockets and nooks throughout the cab to handle four people's pocket incidentals.
What does one have to pay for such a luxurious "work truck"? Base price for the 2015 Sierra 2500HD Crew Cab 4×4 Denali is $53,740 with the 6.0L gas engine. The MSRP as tested with the diesel and all the options, $64,575.
I can assure anyone who wants a luxury pickup at their disposal they'll find the diesel-powered 2500HD Denali wonderfully surprising in all aspects for work, family or recreational needs.