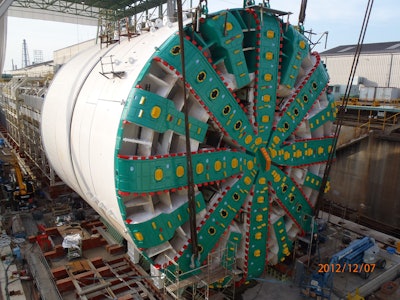 The largest tunnel-boring machine in the world needs a bit of reinforcement against the "wet and abrasive soils" deep below Seattle, according to a report from the Seattle Times.

As such, repairs for Big Bertha will include the installation of 216 steel ribs and plates that will add 86 tons to the 7,000-ton machine, the paper reports. Some of the ribs will be fastened to the drive block while other pieces will be attached to the cutter drive.
Bertha went down from overheating in late January after water and sand clogged the machine's cutterhead openings and penetrated seven rubber seals meant to protect the main bearing. Before going down, the machine had only completed one-tenth of the 1.7-mile State Route 99 tunnel, which will carry a double-deck highway and replace the SR 99 Alaskan Way Viaduct.
Chris Dixon, project director for Seattle Tunnel Partners (STP), the contractors leading the tunnel project, told the Seattle Times he didn't know what problems specifically the steel reinforcements would fix. However, back in April, Dixon noted that engineers were considering reinforcing the machine's frame over concerns that the machine is simply too big. Then, the idea was to add extra support so the machine could more efficiently carry its own weight through the soil.
There is also speculation that the machine's engineers from Hitachi might have been aware of "instability, excess vibration or other issues," while designing and building it, according to the report.
To make the repairs, STP workers are in the process of digging a 12-story pit to access the machine before pulling the 630-ton cutterhead, drive axle and bearing to the surface in order to replace the bearing and add the steel reinforcements.
Last month STP began building the pit's underground walls and the Washington State Department of Transportation installed a camera at the site for taxpayers to keep tabs on progress of the repairs. So far, about a quarter of the walls have been installed and that will be followed by an excavation of the dirt.
The plan is still to have the repairs completed and drilling resumed by March 2015. The tunnel was originally scheduled to be completely drilled by the fall of 2014 and open to traffic by the end of 2015. With the delay, the tunnel could open by November 2016—the state's completion deadline.