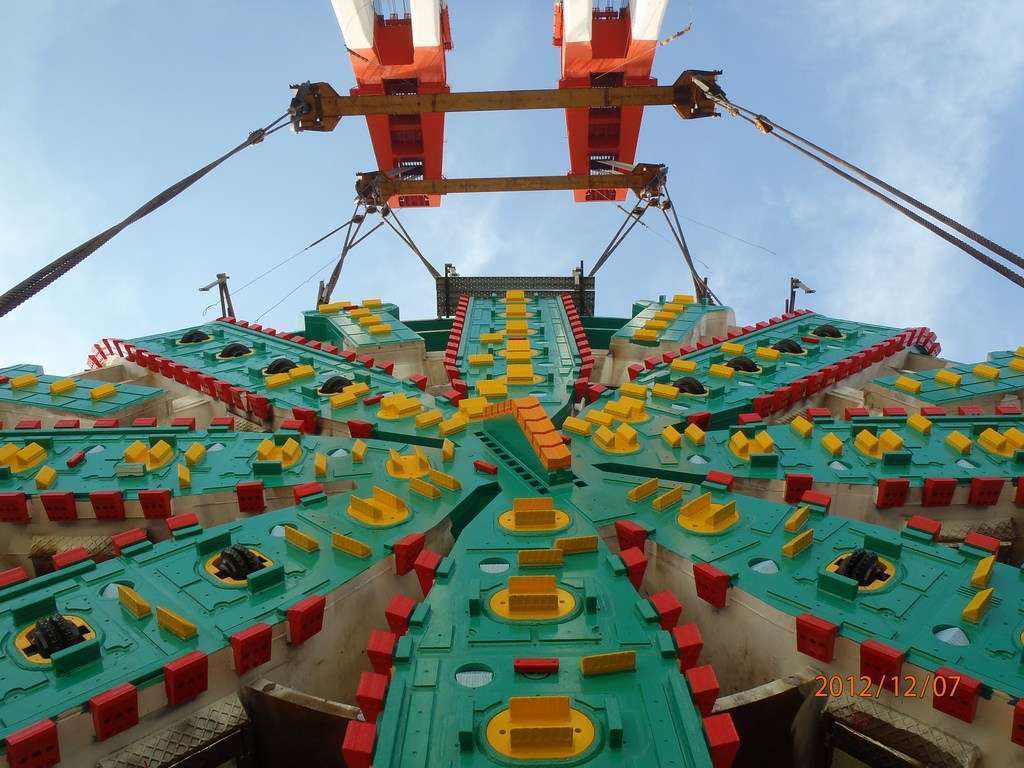 In a slight change in plans, officials with the Washington State Department of Transportation have announced Big Bertha, the world's largest tunnel-boring machine, won't get back to work below Seattle for nearly a year.
Big Bertha has been out of commission since late January when the machine's cutterhead openings became clogged with dirt, damaging seals around the machine's main bearing and causing the machine to overheat.
The added delay is due to a change in how repairs to the massive machine will be carried out, according to a report from the Seattle Times. Near the end of February WSDOT officials announced that workers would dig a pit 12-stories deep directly in front of Bertha to gain access to the cutterhead. They would then remove the five-stories-tall, 630-ton cutter head, lift it from the pit and lay it on its side on the surface.
The new plan still involves pulling the cutter head to the surface, but now crews will pull up the head, drive axle and bearing in one piece and replace the bearing at street level rather than replacing it beneath the surface. Project director Chris Dixon of Seattle Tunnel Partners (STP) told the Seattle Times that this method would ensure a more accurate fit than the original plan.
And while they know how the machine was stopped back in January, Dixon says STP still doesn't quite know why it happened. The hope is removing the full front end assembly will answer that question.
More troubling is that there are now concerns over whether Big Bertha is simply too big. Dixon said that engineers are currently trying to figure out if the machine's frame needs extra strengthening to support the sheer size and weight of its 630-ton cutter head as it rumbles through the earth.
Bertha has completed one-tenth of the 1.7-mile State Route 99 tunnel which will carry a double-deck highway. The new tunnel will replace the SR 99 Alaskan Way Viaduct.
The machine has encountered two major setbacks so far: After nearly two months of downtime caused by the machine hitting a steel pipe, she advanced four feet near the end of January only to be brought to a halt again when a warning light  triggered in the control room signaled overheating caused by the damaged seals.
The tunnel was originally scheduled to be completely drilled by the fall of 2014 and open to traffic by the end of 2015. With the delay, Dixon said the tunnel could open by November 2016—the state's completion deadline.