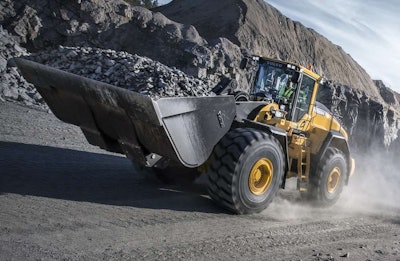 [imagebrowser id=91]
The just-released 4-to 15.7-cubic-yard Volvo L150H loader showcases a filter system design that allows 90 percent of the cab air to be filtered via a pre-filter that prevents larger dust particles from clogging the main filter. "This gets all the dust out," says Stefan Solomonsson, wheel loader product manager, Volvo Construction Equipment. "There are a lot of 10- and 12-hour shifts in the U.S., and this is one way to make the operator more comfortable throughout."
Solomonsson says Volvo has also addressed a concern of G Series users over the in-cab display screen; now the screen is easy to see even in bright sunlight.
Volvo offered the first U.S. look at the L150H this week at its Florida dealer Flagler Construction Equipment in Tampa, Florida. In addition to the L150H, editors viewed the A40G articulated hauler and the EC380E excavator, both introduced at ConExpo.  While the A40G is already on dealer lots, the EC380E is expected to make its U.S. debut this December.
The Tier 4 Final L150H, with a 300-gross-horsepower Volvo DI3J engine, requires the use of DEF, which is used at a rate of 3 to 5 percent per gallon of diesel, depending on the application. "As long as you fill both the fuel and the DEF tank at the same time, you won't run out of DEF," Solomonsson says.
"Fuel economy is a balance between the machine components," he continues. "Getting rid of the drag in axles and transmissions and using intelligent load-sensing hydraulic systems are just some of the ways we've achieved that balance. The loading-sensing hydraulics let us operate at much lower rpms and still do the same things that used to require 2,200 rpms."
L150H operators start their shift by turning on the ground-level ignition switch, and quickly checking the hydraulic oil and transmission oil levels, shown on two sight gauges located near the steps going up to the cab. Once operations get underway, an optional Boom Suspension System helps take out the bump and grind of the jobsite, creating a more comfortable ride and reducing bucket spillage.
Aimed at reducing fuel consumption, the Automatic Power Shift and Fully Automatic Power Shift functions adjust gears to sync with engine and travel speed. And a Reverse By Braking function automatically applies the service brakes when the operator changes the direction of the machine, a system aimed at further reducing fuel consumption and stress on the drivetrain. Volvo's OptiShift technology, introduced on its F Series loaders, uses this RBB function in tandem with a lock-up torque converter to create a direct drive between the engine and transmission, which Volvo says eliminates power losses in the torque converter and reduces fuel consumption by up to 18 percent. In addition, the loader's eco-pedal uses a mechanical push-back force to encourage operators to ease off the throttle when engine speed is about to exceed optimum operating range.
The entire cab structure tilts 30 to 70 percent for additional access to service points. Another serviceability feature: the grouping of all filters under one service door.
The H Series, which also includes the 334-horsepower L180 and 373-horsepower L220, has a new electronic platform. "We needed more memory," Solomonsson says. "Just like computers, machines these days take much more memory."