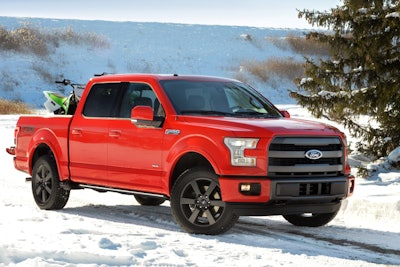 Ford announced that it plans to shutdown two of its plants for a combined 13 weeks in order to retool and prepare them for assembly of the aluminum bodied 2015 F-150 pickup.
The automaker will halt production at its Dearborn Truck Plant in Michigan for 11 weeks, and at its Kansas City, Missouri plant for two weeks, according to a report from Automotive News. Those shutdowns include the normal summer shutdown periods.
The body of the new F-150 is made from high-strength aluminum alloys currently used in aerospace, commercial transportation and energy applications. The 2015 F-150 is 700 pounds lighter thanks to its new aluminum body and Ford engineers say that reduction amounts to fuel saving and performance boosts.
Despite all the upside, many see the move to aluminum as a huge risk for the automaker.
The F-150 has been the bestselling vehicle period in the U.S. for the last 32 years. According to Automotive News, the F-Series trucks" accounted for 31 percent of Ford's U.S. light-vehicle sales in 2013, and Morgan Stanley estimates that it generates about 90 percent of Ford's global profits."
That makes many analysts uneasy at the idea of Ford attempting to improve upon an already hugely successful formula.
In addition to the necessity of downtime and retooling plants, there's worry that customers will be put off by the aluminum F-F-150's higher cost of ownership. It costs Ford a significant amount more to build trucks out of aluminum than steel, a cost that could be passed on to customers.
On top of that, insurance rates are expected to be about 10 percent higher for the truck and qualified repair shops could be hard to find.
Don't forget to check out our gallery of the new F-150 as well as an introduction video with Ford engineers by clicking here.