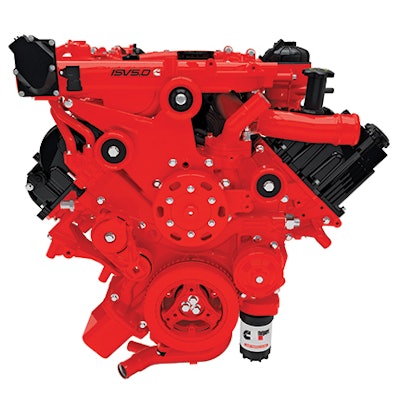 With the introduction of the Cummins 5.0L V8, a lightweight, technologically sophisticated V8 diesel engine, Cummins has changed the game when it comes to powerplants for light- and medium-duty applications.
The engine has two names and two iterations. The ISV5.0 is the commercial version of the engine. Cummins is positioning this as a fuel-efficient alternative to big gasoline engines in applications such as school buses, walk-in vans, medium-duty trucks and RVs.
What has the pickup truck crowd abuzz is the fact that Cummins is also configuring this same platform as a diesel engine for the gasoline-dominated world of 1/2-ton and 3/4-ton pickup trucks and calling it the Cummins 5.0L V8 Turbo Diesel. This version will make its first appearance in the pickup truck world as an option on the Nissan Titan pickup starting in 2014.
The eight-cylinder power plant features a number of new technologies for Cummins, including a lightweight compacted graphite iron block, composite valve covers, and an advanced ceramic glow plug system. These glow plugs can deliver start times in under two seconds in temperatures as low as minus 25 degrees F.
Additionally, the engine features a forged steel crankshaft, high strength aluminum alloy heads, dual overhead camshafts, high pressure common rail fuel delivery and a variable geometry turbocharger. Cummins also designed the engine with multiple front-end accessory drive options to tie into the alternator, air compressor, AC compressor and hydraulic pump.
One of the key design criteria was to substantially reduce noise – one of the common complaints people voice about diesels. Practically speaking this means you don't have to shut off the engine to be heard when you're ordering at the takeout window.
The history of this engine dates back to the early 2000s, when Cummins and the U.S. Department of Energy collaborated on a jointly funded research project to explore the possibility of a light-duty, automotive diesel engine, says Michael Taylor, director of customer engineering and business development. Shortly afterward, Chrysler expressed interest in the possibility of a small diesel for its Ram brand 1/2-ton pickups and joined the effort.
In 2006 Cummins announced its light-duty diesel program and the partnership with Ram. In 2008 and 2009 when the economy tanked, Chrysler got cold feet and withdrew from the project. Nissan, which had also been involved with the development, stayed in the game and Cummins forged ahead.
One of the big challenges was developing the manufacturing processes for the compacted graphite iron block. "That decision had to be made fairly early from a manufacturing standpoint," says Taylor, "It's a significant decision to go that route. You have to set up your manufacturing processes to be optimized for those materials."
Cummins felt all along that there would be sufficient demand for this type of lightweight, automotive-style diesel to justify the development of what would be come one of the company's biggest product launches in years. An independent survey of truck owners conducted prior to the launch indicated to the company that possibly as many as 300,000 customers would seriously consider buying a full size truck if they could get it with a Cummins diesel.
That's a lot of customers any way you look at it, but Cummins points to the success of their in-line six cylinder diesel option for the Ram 2500 truck. When this was first announced, Chrysler thought they might sell 10,000 a year. They started taking orders in June 1998 and had 22,000 orders from dealers by January 1989.
Why We Like It
Truck owners have been clamoring for a small diesel for years – only to be met with a wait-and-see attitude from Detroit's Big Three. Cummins took the initiative, spending more than a decade and many millions of dollars to fulfill that desire for a high torque, fuel-efficient, 1/2-ton pickup. Given the population of buyers who prefer 1/2-ton trucks and the growing interest American drivers are showing for fuel-efficient diesels, the Cummins 5.0L V8 is clearly a welcome development the industry and the market.