By Lauren Heartsill Dowdle
Trailers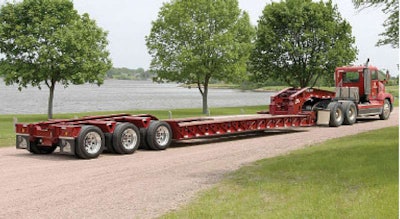 FIVE-POSITION DOOR
Trail King's Advantage Plus! Series of hydraulic detachable gooseneck trailers features a five-position gooseneck door adjustment that allows for an 8-inch range of king pin height settings.
• Has a covered knuckle trough in the rear deck
• Includes 10-inch I-beam cross members with 4-inch stub cross members for 12-inch centers in the outer bays
• LED lights and a sealed plug-and-play electrical system comes standard.
Visit EquipmentWorld.com/info

HYDRAULIC RAMPS
Trailboss's line of Paver Special trailers come in a 25-, 35- and 50-ton low boy and a 20-ton tag-a-long.
• Custom bed lengths are available with a 6-foot dove tail and 11-foot hydraulically operated folding ramps
• 20-ton tag-a-long has 3-foot-wide ramps
• Hydraulic ramps have a 9 1/2-degree load angle.
Visit EquipmentWorld.com/info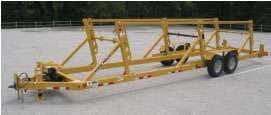 SELF LOAD
Roose Manufacturing's RR-335 three-reel, self-load trailer carries reels up to 3,500 pounds with 125-inch diameters.
• Engine-powered hydraulic pump raises the reels
• Swing open rear gate and roll or back reels in
• Optional tension brake available.
Visit EquipmentWorld.com/info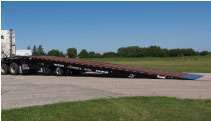 GREASE SYSTEM
The Landoll 400 Series traveling axle trailers were redesigned with additional frame strength, adding 5 tons of capacity.
• Designed with centralized-grease system
• Model 440 has a frame rating of 40 tons
• Triple-axle Model 455 has a 55-ton capacity.
Visit EquipmentWorld.com/info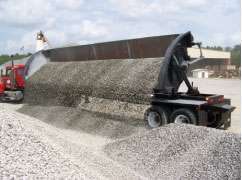 HYDRAULIC LINES
The Clement SideStar2 side-dump trailer has hydraulic lines routed through the frame's cross members.
• Chassis is 39 feet long with a 34-foot inside body length
• Frame design includes structure for mounting push-block or a pintle hook
• Has a two-speed suspension.
Visit EquipmentWorld.com/info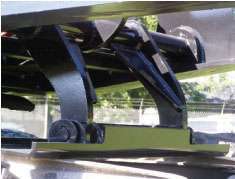 TWO-LEGGED PADDLE
Rogers' gooseneck jack paddle is installed on the bottom of the gooseneck to eliminate manual blocking of the trailer frame.
• Hydraulic cylinder pushes the two-legged paddle onto the trailer frame to support the detached gooseneck
• Standard on the Rogers' CobraNeck detachable gooseneck
• Requires little to no tractor modification.
Visit EquipmentWorld.com/info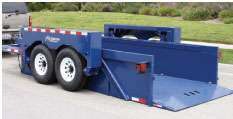 AUTOMATIC AIR
Air-Tow trailer decks remain level as they hydraulically lower, in less than 30 seconds, to the ground for loading.
• Features a fully self-contained, automatic air suspension system that adjusts for the loaded weight
• Tandem axle trailer with 16-inch wheels and electric brakes
• Carry capacity of 10,000 pounds.
Visit EquipmentWorld.com/info
SLOPED NECK
Tow equipment with Felling Trailers' FT-80-3 tilt-slide axle, which runs on two "V" rollers and six flat rollers.
• Available in three load capacities and has a 6- to 7-degree load angle
• Has a sloped neck approach
• Standard deck is 102 inches wide.
Visit EquipmentWorld.com/info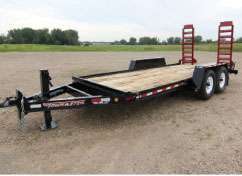 COMMON FRAME
Towmaster's T-Series and TC-series drop-deck trailers are built on a common frame where a base and full-featured model can be manufactured.
• Includes a six-position integrated hitch plate
• Has 3-inch, 80,000 psi junior I-beam crossmembers
• Features heavy-duty, one-piece formed fenders with back panel.
Visit EquipmentWorld.com/info
ROUND TUB
SmithCo's Model SX2-4034 side-dump trailer has a true round, one-piece tub floor, spherical bearing-type hinges and polyurethane paint.
• Frame is 39 feet 5 inches long
• Has high-clearance, two-speed, non-load-bearing landing gear
• Tub is 34 feet long and 102 inches wide.
Visit EquipmentWorld.com/info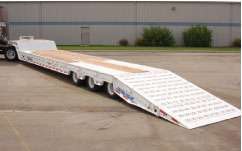 HEAVY HAULING
Haul multiple pieces of equipment with TrailMax's hydraulic tail-heavy equipment trailer.
• Features high-tensile steel construction with 8-inch cross members on 12-inch centers
• FWTRD-100-HT model has a 100,000-pound distributed capacity and an 70,000-pound concentrated capacity
• Transition ramp has an 11-degree load angle.
Visit EquipmentWorld.com/info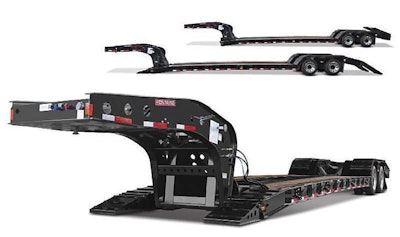 LOCKABLE STORAGE
Fontaine's Magnitude 35 heavy-haul trailer is equipped with a 24-foot clear deck length and a loaded deck height of 20 inches, with 6 inches of ground clearance.
• Bogie can be ordered with an optional
beavertail and spring-assisted rear ramps
• Built-in storage compartment has a lockable cover
• Can connect to the trailer on uneven ground.
Visit EquipmentWorld.com/info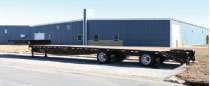 HINGED RAMPS
Jet's dropdeck trailer with a beavertail has main beams with the camber automatically precut into the web to reduce stress. Options include:
• Spring-assist hinged ramps
• Manual raise and lower valve
• Dual tire-equalization system.
Visit EquipmentWorld.com/info

MECHANICAL, REMOTE
Talbert Manufacturing's 75-ton double Schnabel trailer features a 13-axle hauling configuration for either an 80-meter wind tower base or a wind tower mid-section.
• Available in single and multiple combinations for
wind towers
• Equipped with both mechanical and remote rear
steer capability
• Interface area is covered with an ultra-high molecular weight plastic (UHMW).
Visit EquipmentWorld.com/info

STANDARD, EXTREME
The Transcraft DTL-2100 drop-deck platform trailers are shot-blasted before assembly and then primed with a zinc-rich epoxy.
• Standard Duty has a base weight of 11,147 pounds
• Beam rating of 60,000 pounds in 10 feet
• Extreme Duty model, DTL-3000, is available.
Visit EquipmentWorld.com/info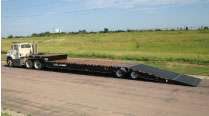 STEEL FRAME
The Trail-Eze TE70XT is available in either a standard 15-degree load angle or the 10-degree load-angle tail.
• No moving axles
• Frame is hi-tensile steel
• Axles have a 22,500-pound capacity with oil seal hubs.
Visit EquipmentWorld.com/info
Tie-down Tips
Follow these tie-down tips and be confident in securing your load.
• The load should be distributed to balance equally on all axles and tires. When securing the load, chains should pull either in or out and never the same direction. Always use the designated D-rings or tie-down loops. When using stake pockets, drop the hook and chain through the pocket and come back up and hook on the top side. Never use a fender or frame lip, as the tie-downs could shift and the structure may not support the load.
• Inspect the chains and binders for wear, and never use a chain that has been welded or has a quick-link; these are weak points. Also, make sure the chain is rated for the capacity you are hauling.
• After the first 100 miles, check the load for shifting, loose tie-downs or chains and tire pressure on the machine you are hauling. If the tire pressure is low, bouncing could loosen the tie-down chains or straps. Check the load every time you stop.
Source: Towmaster