By Amy Materson
POWER BOOST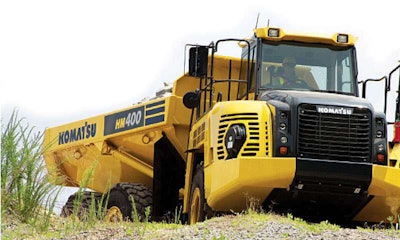 Increase power while decreasing fuel consumption with Komatsu's HM400-3 articulated
truck, which is powered by a 469-horsepower Tier 4 Interim Komatsu SAA6D140E-6 engine. The 162,569-pound HM400-3 truck hauls up to 44.1 metric tons while achieving a 34.7-mph maximum ground speed. The truck includes features that improve operation such as a new traction control system (K-TCS) that has speed sensors to detect tire slippage and then automatically applies the inter-axle differential lock. Komatsu Advanced Transmission with Optimum Modulation Control System has a six-speed automatic transmission that eliminates shift shock and torque cutoff, ensuring efficient engine operation while minimizing operator fatigue and load spillage.
Additional features:
• Equipped with the KOMTRAX fleet monitoring system.
• Large automatic retarder eliminates inertial acceleration effects.
• Two single-staged body lift cylinders provide 70-degree dump angle.
• ROPS/FOPS Level 2 certified cab has rounded front dash panel with easy-to-reach switches.
• High back heated air ride seat with three-point seat belt offers improved visibility.
Visit EquipmentWorld.com/info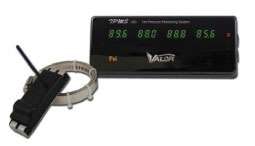 TRACK TIRE PRESSURE
Reduce tire and wheel failure with Esco's commercial truck TPMS System, which measures both tire pressure and heat buildup while reading and recording abnormal air loss due to leaks and punctures. Installed inside the wheel/tire cavity in the drop center of the wheel, the system provides an advantage over externally mounted sensors vulnerable to theft or damage. The TPMS System has a hook and go feature that enables the driver to hook up to any trailer equipped with the system automatically.
Visit EquipmentWorld.com/info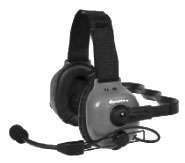 TALK WIRELESSLY
Communicate with your crew without interference with Sonetics' Apex wireless radio headset, which combines hearing protection with radio push-to-talk headset capability. The headset has a 1,600-foot range, 24-hour battery life, two-hour recharge time and 24 decibels of hearing protection. Noise-cancelling microphone and automatic squelch circuits block environmental noise.
Visit EquipmentWorld.com/info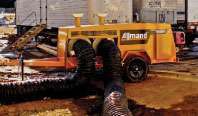 EXTEND RUN TIME
Allmand's Maxi-Heat MH-1000 heater trailers have three molded poly fuel tanks – one 50-gallon engine supply tank and two 100-gallon heater supply tanks – that provide a 60-gallon increase over the previous single steel tank configuration. The new design provides more than 30 hours of continuous operation without refueling. The corrosion-resistant polymer tanks are also lighter in weight than the steel tank. The Maxi-Heat has increased static pressure from a .5- to a 2.3-inch water column, allowing an increase in the 16-inch ducting from 40 feet to 110 feet. The twin heater units produce up to 1,010,000 BTUs and may be operated independently. A liquid cooled, 1,800-rpm Isuzu 3CD engine is standard.
Visit EquipmentWorld.com/info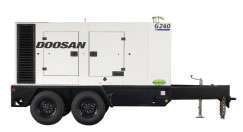 SIMPLE MONITORING SYSTEM
Doosan Portable Power's G240 Tier 4 Interim mobile generators have a 238-kVA, 190-kW prime power rating and deliver 282 horsepower at 1,800 rpm. An analog control panel has large meters for at-a-glance monitoring, and a run/idle switch ensures reduced engine wear. Dual frequency capability allows operators to power 50-Hz applications with the flip of a switch, and a voltage selector switch offers quick configurations of common voltages. The 368-gallon-capacity fuel tank delivers a minimum 24-hour run time at any load factor, and the G240 has a 500-hour service interval.
Visit EquipmentWorld.com/info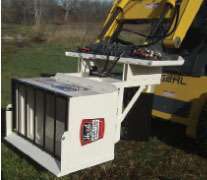 SIMPLIFY SPREADING
Spread any combination of wet or dry sand, salt or calcium chloride with the Herd Model 2011SCP skid steer- mounted scoop and spreader from Kasco, which handles 1,200 pounds or 12 cubic feet of material. The attachment has a hydraulic motor drive with cable controls, 10-gauge steel heavy duty hopper with powder coated finish, 3/8- by 4-inch cutting edge, top bar grate and universal skid steer attachment design.
Visit EquipmentWorld.com/info