Portable Fascination
By Marcia Gruver

That people are sometimes entranced with what you probably take for granted – the power and performance of hydraulics – comes as no surprise to Alisa and Jason Bennett, owners of Bennett Contracting, Bradenton, Florida. In fact they are basing a side business – People at Play – on just that fascination.
With People at Play, the Bennetts offer a behind-the-controls experience on an excavator, skid steer and dozer to adults intrigued with the machines they've seen on jobsites. These temporary operators come from a full spectrum of day jobs – and even include retirees – all intently curious on just what it feel like to control powerful iron. (Since Bennett Contracting is one of our 12 finalists for this year's Contractor of the Year award, you'll be hearing more about them later this year.)
The fascination People at Play's clients have with hydraulic power likely started way before they drew their first paycheck. This is why I'm intrigued by an educational thrust aimed toward middle and high school students by the Center for Compact and Efficient Fluid Power.
Using around $800 in common materials provided in a kit, teachers can assemble a Portable Fluid Power Demonstrator, which incorporates the familiar boom-stick-bucket assembly of an excavator. This micro-excavator, powered by water hydraulics or pneumatics, is small enough to fit in a hand-carried storage bin. It's also the core of a curriculum devised by a team lead by Professor John Lumkes of Purdue University and funded by the National Fluid Power Association.
Lumkes calls the micro-excavator demonstrator an "effective hands-on teaching tool that makes it fun to learn about engineering principles while seeing first-hand how fluid power technology works." Construction equipment is front and center in the training. Showing a picture of an excavator, the first question the teacher asks students is to identify the machine and describe how they've seen them used.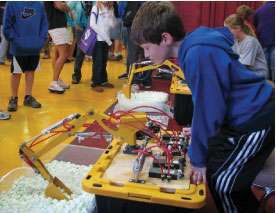 Students are taken through a number of lesson steps, all designed to gain fluid power basics. They operate the demonstrator, moving material – such as colored Styrofoam – from one container to another, and observing how the power flows to each function. The National Fluid Power Association is also using the demonstrator-based lessons to promote its vocational videos.
While NFPA's aim is to support fluid power engineering careers, I can't help but think a side benefit to our industry is to get kids thinking about construction machines, and perhaps become intrigued about a whole new direction their lives might take. EW
For more information, go to People at Play, pplatplay.com, and the Center for Compact and Efficient Fluid Power, ccefp.org/education-outreach/fluid-power-demonstrator.