Motor graders, 145 horsepower and above
Smooth shifting and fingertip controls have made these models the top financed motor graders throughout 2010 and into this year.
The Caterpillar 140M – replaced by the M2 series this year – has two electro-hydraulic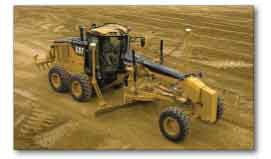 joysticks that reduce hand and wrist movement. This steering control system creates a relationship between the lean angle of the joystick and the turning angle of the steer tires. Contractors enjoy an electronically controlled power shift transmission, which provides smooth shifting and maximum power to the ground, the company says. Isolation mounts for the cab, engine and transmission – as well as the relocation of the hydraulic pump and valves – reduce sound and vibration. The Cat 140M extends visibility with angled cab doors, a tapered engine enclosure and a patented sloped rear window. The motor grader also features Cat Messenger, which provides real-time machine performance and diagnostics.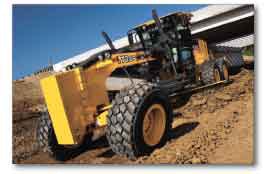 The six-wheel-drive Deere 772G uses a dual-path hydrostatic drive system that delivers control, responsiveness and power to the ground to move material. Its Event-Based-Shifting automatically senses the load and adjusts clutch-pack engagement accordingly for smooth shifts and direction changes. An efficient HVAC system and 11 directional vents keep the cab comfortable and the view clear. Deere says the model's top-ranked features are the steering wheel and the choice between the console-mounted control pattern or armrest-mounted fingertip controls. If an operator chooses the fingertip controls, they will still have a choice between using lever steering and the steering wheel. The motor grader also features heavy-duty tapered roller bearings, 32 NeverGrease joints, a cool-on-demand fan and a LCD color monitor. EW
Top Financed Motor Graders
1. Caterpillar 140M
2. Caterpillar 12M
3. Deere 772G
4. Deere 770G
5. Deere 672G
Source: Equipment Data Associates, all of 2010 and YTD through April 5, 2011.
EDA is a division of Randall-Reilly.