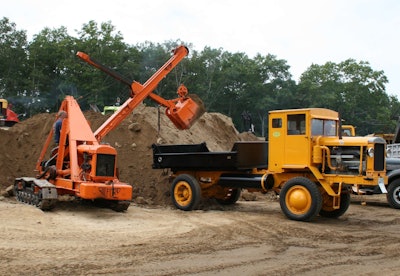 The I & I Tractor Club is hosting the Historical Construction Equipment Association's 26th Annual International Convention and Old Equipment Exposition July 8-10 at their show grounds in Penfield, Illinois. The show hours are Friday 9 a.m. to dusk, Saturday 9 a.m. to 5 p.m. and Sunday 9 a.m. to 3 p.m. Admission for those 12 and older is $10 daily or $25 for a weekend pass.
The show will feature demonstrations and displays of horse-drawn, gas and diesel-powered antique construction machinery, cable and hydraulic shovels and cranes, hit-and-miss engines and antique trucks and tractors. Oliver and Cletrac equipment is being highlighted, and the featured machine is an Oliver OC46 crawler loader.
Along with our demonstrations of antique construction machinery, the show will also include I & I's tractor pull, sawmill, museum, Fairbanks engine, blacksmithing demonstration and other attractions. The HCEA will have a tent for indoor vendors, and outdoor vendor, flea market and swap meet spaces are available through I & I.
There is no registration fee for displays or displayed equipment, but they must be registered upon arrival. Onsite primitive camping is available first-come/first-served for $20 for the weekend. Campers are advised that they should be self-contained for water, electric and sewer.
The Saturday evening banquet will be held at the German Fall Festival Center, 101 South Main Street in nearby Gifford and will include an auction and raffle. Banquet menu includes steak or chicken, baked potato, corn on the cob, salad, rolls, beverage and dessert. Price for the banquet is $30 per person.
MOTEL ACCOMMODATIONS: Mention HCEA for reservations and convention rates for the hotels listed below.
Quarters Inn & Suites, 200 Linden Avenue, Rantoul, phone 217-893-1234. This is the HCEA feature hotel and HCEA Board Meeting location, 11 miles to show site. $60 per night for all rooms, includes continental breakfast.
Days Inn, 801 West Champaign Avenue, Rantoul, phone 217-893-0700. 11 miles to show site. $89 double bed, $85 king, $75 queen, includes continental breakfast.
Best Western Inn, 420 South Murray Road, Rantoul, phone 217-892-9292. 11 miles to show site. Double queen $81, includes continental breakfast.
Paxton Inn Motel, 980 West Ottawa Street, Paxton, phone 217-379-2316. 20 miles to show site. King bed $58, double queen $54, no breakfast.
Drury Inn, 905 West Anthony Drive, Champaign, phone 217-398-0030. 30 miles to show site. Double queen $129, king $119, includes full breakfast and Happy Hour with hot food.
Best Western Riverside Inn, 57 South Gilbert Street, Danville, phone 217-431-0020. 30 miles to show site, $70 single or double, includes continental breakfast.
For more information, visit hcea.net.