Construction Machine IDs
Curious about what type of construction machine you're looking at? Below are several common earthmoving machines found in highway and utility work:
Excavator
(also called a "track-hoe")
This tracked machine is equipped with an "arm" with a bucket on the end that gives it the ability to reach out and down to lift or dig. It is capable of swinging in a full circle and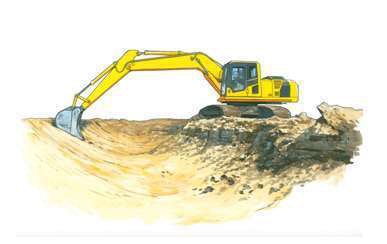 commonly used in construction and excavating where material needs to be moved from one point to another. Many times the material being removed is loaded directly on a truck for transport. These machines are also used to clear brush, construct trenches and lay pipe. Because of their traction and ability to travel over rough terrain, excavators are often fitted with attachments such as tree shears or grapples for tree removal.  Another popular demolition attachment is a breaker (also called a hammer), which breaks up concrete or rock. Manufacturers include Cat, Deere, Komatsu and Volvo.
Compact, or mini, excavator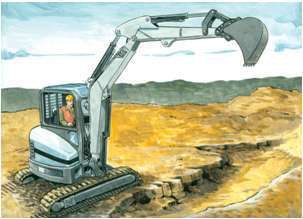 The small brother to a large excavator, this machine is highly maneuverable, and able to get into areas that larger excavators cannot. It has rubber tracks and digs trenches of smaller depths. It's especially useful for working in gated backyards. Manufacturers include Kubota, Caterpillar, Deere and Bobcat.
Skid steer loader
This small wheeled loader can turn and maneuver in a tight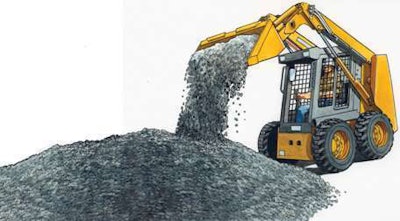 radius. Skid steer loaders gain their name from having the ability to keep one side of the machine static while letting the wheels turn on the other side. This machine can lift its bucket high over the operator's cab to load trucks. It can be outfitted with dozens of attachments including forklifts, augers, grapples, breakers and planers. Manufacturers include Bobcat, Case, Cat and Deere.
Compact track loader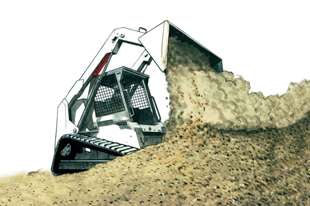 This resembles a skid steer loader, only on rubber tracks, giving the machine the additional ability to work in muddy conditions.  These machines have become extremely popular over the past few years; manufacturers include Bobcat, Cat, Deere and Takeuchi.
Wheel loader
(Also called a front-end loader)
This machine has four same-size wheels and has a bucket that loads material into a truck or conveyor, as well as moving material within a jobsite. These machines vary in size and horsepower and include  compact sizes that are highly maneuverable. Many of these machines are articulated, or hinged in the middle, allowing for greater maneuverability. With the addition of a tree shear, grapple, or other attachment, wheel loaders can also be used in demolition work.  Forks are another common attachment. Manufacturers include Caterpillar, Deere, Komatsu, Doosan, Case and Hitachi.
Backhoe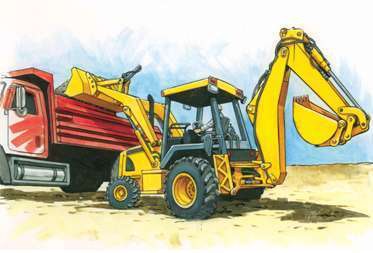 (Also called tractor-loader-backhoe or loader-backhoe)
These machines have two working ends – the front end has a loader bucket (such as the wheel loader listed above) and the back end has a backhoe, which resembles the working end of an excavator. This versatile machine loads and carries materials, and digs. Attachments include forks for the loader end, and grapples and demolition hammers for the backhoe end. Manufacturers include Case, Caterpillar, Deere and JCB.
Dozer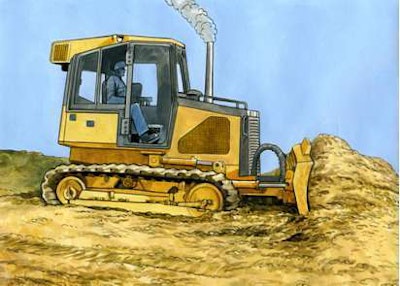 This machine is a tracked vehicle used in excavation and construction to move or push soil and rock. Because of its tracks, it can move around in muddy, rough ground. This machine can be equipped with a ripper (a claw-like attachment) on the back that lets it move rock embedded in the ground, and can also be equipped with a winch for stump removal work. Manufacturers include Cat, Deere, Case and Komatsu.