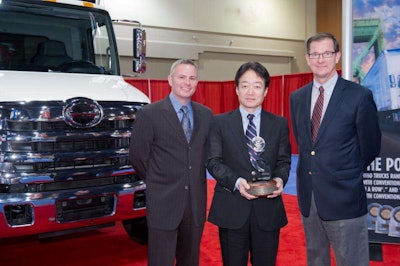 Hino Trucks 338 model took home the 2011 Medium Duty Commercial Truck of the Year award, the second year in a row that the American Truck Dealers (ATD) division of the NADA has recognized Hino with this honor. In 2010, Hino's 268 model received the same accolade in 2010.
The trucks were judged on innovation, design, fuel economy, driver and owner satisfaction, ease of maintenance and safety.
"We congratulate Hino Motors Sales U.S.A. and all of the nominees for participating in this year's ATD Commercial Truck of the Year competition," said Dick Witcher, ATD convention chairman, in a written statement. "The award competition, which honors the top medium- and heavy-duty trucks sold in the United States, continues to grow. We look forward to hosting the competition next year during the convention in Las Vegas."
The judging panel consists of journalists from leading truck publications in North America.
"We are honored and thrilled to have won the ATD Medium Duty truck of the Year Award for the second consecutive year," said Sumio Fukaya, president and CEO of Hino Trucks. "
We strive to make the world a better place to live by helping people and goods get where they need to go — safely, economically and with environmental responsibility – while focusing on sustainable development. It brings us great satisfaction to see that our efforts are meeting the expectation of the industry."