Concrete pavers/curb and gutter machines
By Lauren Heartsill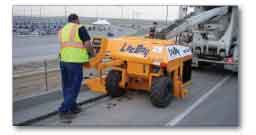 COMPACT MACHINE
The LeeBoy LBC-24W concrete curb and gutter machine is designed to slipform curbs and gutters, alley ribbons and narrow sidewalks.
• Weighs 7,500 pounds
• Features a 44-horsepower turbo diesel engine
• Can be used on soil or pavement using a string line or manual controls.
Visit EquipmentWorld.com/info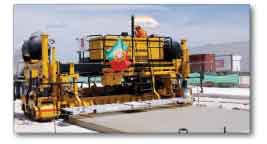 TIGHT RADIUS
The GOMACO GP-2400 half-width concrete paver slipforms widths up to 24-feet wide on a tight radius.
• G+ control system uses self-diagnostics for grade and steering
• Moves 105 feet per minute in travel speed and 35 feet per minute in low speed
• Features an open-front mold and telescoping frame.
Visit EquipmentWorld.com/info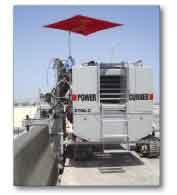 Buying a new curb and gutter machine:
When should you buy? Downtime is a killer with a curb and gutter machine. With other pieces of equipment, you lose the operator's productivity for that day. But with a curb and gutter machine, downtime means a crew of six to 10 laborers being paid without being productive, losing a load or two of concrete ($1,500 to $2,000) and holding up a general contractor who is waiting to pave asphalt when the curbing is finished. When a machine has so many hours on it that a breakdown becomes a consideration each time you pour, you are overdue for a replacement.
Source: Power Curber
For more products, visit our digital issue at www.EquipmentWorldDigital.com.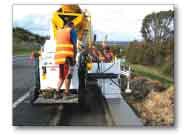 HEAVY-DUTY
The Arrow 750 XL Slipform Kerber can form over dowels and rebar, in a trench and below grade.
• Uses a Yanmar three-cylinder, water-cooled diesel engine
• Features heavy-duty, solid rubber tires on heavy-duty rims
• Has an offset maximum width of 2.46 feet and a maximum height of 1.89 feet.
Visit EquipmentWorld.com/info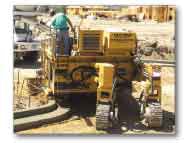 TRIM, POUR
Overbuilt's Easi-Pour Compact 880 pours barrier up to 42-inches high and paves up to 8-feet wide.
• Trims and pours at the same time
• Holds 47.2-cubic feet of concrete
• Features a 115-horsepower engine at 2,400 rpm.
Visit EquipmentWorld.com/info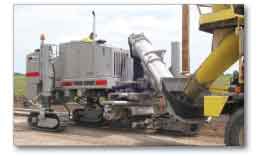 MAX IT OUT
The Power Curber 5700-C slipform paver handles sidewalks up to 10-feet wide in the center pour position and barrier walls up to 5-feet tall.
• Optional "Max Package" outfits machine with features such as larger crawlers and mounting plates
• Features a Smart Amp electronic control system
• Uses three hydraulically powered crawler tracks with planetary gear reduction.
Visit EquipmentWorld.com/info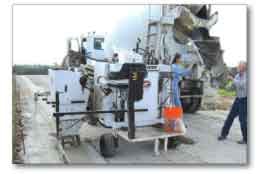 CONTINUOUS BELT
Curb Fox Equipment offers an optional belt conveyor for the Model 3000 to enhance the slipformer's efficiency.
• Allows continuous feeding of the CF3000 when the concrete mixer is at different levels
• Keeps a full head of concrete in the hopper
• Model 3000 remains the legal width with a standard mold.
Visit EquipmentWorld.com/info