Loaded up and ready to roll
Teammate to the large excavator, the articulated dump truck increasingly smoothes out a bumpy ride
By Mike Anderson
So, with six scoops and swings of the 45-metric-ton excavator, the articulated dump truck is loaded and ready to take the dirt away. Now the articulated truck takes over as it begins to bump its way off over the land.
Thanks to technological advances such as onboard weighing systems, tire pressure monitoring systems and "a host of control and cab changes," artic operators find comfort and productivity can go hand in hand, says John Chesterman, John Deere product marketing manager, articulated dump trucks. For example, the cabs of Deere's D Series II trucks have been updated with lower sound levels, a heated air-suspension seat and a push-button start and stop managed by a standard turbo cool-down timer. At the same time, the exclusive, standard onboard weighing system helps the operator manage his productivity and uptime, he says.
"You can monitor material-moved data right from your desktop via the information transmitted through JDLink. This helps in calculating machine utilization and managing a project," says Chesterman. "The tire pressure monitoring system lets the operator keep track of tire pressure from the seat, eliminating guesswork and time out of the cab. The owner can also monitor tire pressures from his desktop, since all the information is available via JDLink."
Volvo offers a full-suspension FS version of its larger articulated dump truck models, including the 39-metric-ton (43-short-ton) A40E. In contrast to hydro-pneumatic suspension systems, the FS system has automatic leveling and stability control that is computer-controlled and then corrected by hydraulic cylinders fitted to each wheel, says the company. "It's especially useful when you're moving back unloaded, and you can pretty much go full speed over obstacles and really bad conditioned haul roads," says Henrik Larssen, Volvo product specialist, articulated haulers. The average increase in productivity is about 15 percent, says Larssen. But, adds Volvo product marketing specialist Nick Tullo, that number represents a wide range of results, "depending on the application and depending on the conditions.
"If we go from wet, soggy roads, you're not going to see a huge benefit with the full suspension. You will see some – you will see 6 to 8 percent as far as fuel efficiency is concerned," Tullo recalls from testing. "As soon as those conditions start to dry out and you have an ill-maintained road that's hard, that's where the full suspension really shines. Once the ground really hardens up, and you don't have a grader out there smoothing everything down or maybe the grader can't even reach where the truck is going, that whole suspension system just takes off and you can actually see up to 32-percent productivity increases. It's huge."
Terex, which offers a line of articulated dump trucks topped off by the 38-metric-ton TA400, concurs that pre-work site evaluation is key to a safe, productive job.
"Before operating your articulated truck, conduct a survey of the loading site and the dumping area to best understand obstacles near the truck, such as power lines, existing landscapes, buildings and other infrastructure, as well as other machines, people and animals," says the company.
Since these trucks can travel up to 40 miles per hour, Terex advises operators should be aware of how changing weather conditions will quickly affect the haul road and the handling of a truck.
Look at these artics when matching large excavators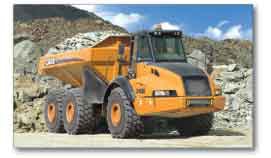 CASE
340B
• 426 net horsepower
• 36 metric tons (39.7 U.S.) rated payload
• 28.8 cubic yards heaped capacity
• 24 seconds full-cycle dump time
A wide truck frame allows the Case articulated dump truck to have a wider-at-the-bottom body that provides a lower center of gravity for stability and faster cycle times over rough terrain, says the company. The wide frame also allows for the expensive hoist cylinders to be mounted inboard, protecting them from damage.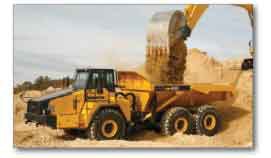 KOMATSU
HM400-2
• 438 net horsepower
• 36.5 metric tons (40.3 U.S.) rated payload
• 29.2 cubic yards heaped capacity
An engine power select system allows operators of the full-time six-wheel-drive Komatsu HM400-2 artics to choose between fuel-saving Economy and maximum-output Power modes to best suit the ground conditions. Activation of the inter-axle and differential locking system further aids performance in bad conditions.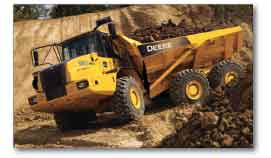 JOHN DEERE
400D Series II
• 413 net horsepower
• 37 metric tons (40.8 U.S.) rated payload
• 29.4 cubic yards heaped capacity
• 20.6 seconds full-cycle dump time
An onboard weighing system, standard on John Deere D Series II artics, provides the operator with overload protection. It, along with a tire pressure monitoring system, can also be monitored by managers from their desktops via the JDLink Ultimate fleet management/telematics system, also standard on Series II trucks.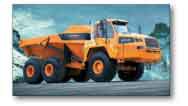 DOOSAN MOXY
MT41
• 432 net horsepower
• 37 metric tons (41 U.S.) rated payload
• 29.7 cubic yards heaped capacity
• 23 seconds full-cycle dump time
Now part of the Doosan heavy equipment offering, the Moxy artic is designed with the turning ring to front of the articulation joint, ensuring equal weight distribution to the front wheels at all times, even in maximum turns. Independent front-wheel suspension provides better traction and operator comfort, says Doosan.
TEREX
TA400 (new)
• 437 net horsepower
• 38 metric tons (41.9 U.S.) rated payload
• 30.3 cubic yards heaped capacity
• 12.5 seconds full-cycle dump time
A four-bar trailing arm suspension system allows operators of the new TA400 artic to travel faster and more comfortably on difficult terrain, says Terex. All three axles are locked in permanent all-wheel drive; each wheel has oil-cooled, wet disc brakes. For downhill hauling, a standard engine brake works with a transmission retarder.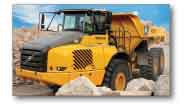 VOLVO
A40E
• 464 net horsepower
• 39 metric tons (43 U.S.) rated payload
• 31.4 cubic yards heaped capacity
• 22 seconds full-cycle dump time
The two largest Volvo 6×6 artics, including the A40E, are available in FS full-suspension versions featuring automatic, computer-controlled leveling and stability control. Constant monitoring of load and ground conditions is continually corrected by hydraulic cylinders fitted to each wheel, as compared to traditional rubber suspension, says Volvo.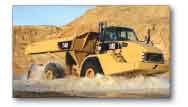 CATERPILLAR
740
• 453 net horsepower
• 39.5 metric tons (43.5 U.S.) rated payload
• 31.4 cubic yards heaped capacity
• 19 seconds full-cycle dump time
Caterpillar not only has the largest capacity artic, the 740, but also offers it in a slightly smaller-capacity Ejector version, which pushes out the load without raising the body. This provides clean load ejection on the go and the capability to work in areas with restricted overheard clearance and soft ground conditions. EW