From 8 to 18 models
JCB's Series 3 takes on the North American skid steer market with both vertical-and radial-lift models
By Marcia Gruver Doyle
JCB announced it would take the skid steer market head on with the introduction of 18 "price competitive" Series 3 models in 2011. First out of the gate:
seven vertical-lift models, including four wheeled and three tracked units, with operating capacities of 2,600 pounds and above. (See chart on page 60.)
According to John Patterson, deputy chairman, the company's move from 8 to 18 skid steer models was driven by two factors: the desire to add vertical-lift models to the company's previous radial-lift-only line up and the movement of the market toward heavier operating lift capacity models.
The lynch pin in JCB's skid steer approach will be the firm's Savannah, Georgia, plant, where all 18 models will be produced for a worldwide market. Patterson says the decision makes sense: 95 percent of all skid steers are produced in the United States, and North America represents 60 percent of the skid steer market. The single-plant approach is also allowing JCB to manufacture out costs, and the company vows its new machines will take on competitive machine pricing head to head.
Production started in November on the first seven models; the remaining models will be introduced in June. Patterson says he'd "be disappointed" if the plant wasn't producing 2,000 units by the end of 2011.
Global skid steer market segmentation
Landscaping — 31%
Farming — 20%
Rental — 20%
Excavating — 6%
Road building — 3%
Concrete work — 3%
Other — 17%
JCB says the lion's share of skid steers go into the landscaping market.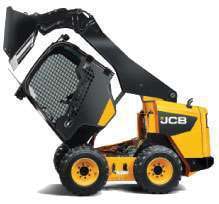 SERVICEABILITY
Key improvements: Tilt-up cab to access power train and hydraulic components, swing-away rear door to access engine and daily checkpoints, and grouped service points. "We now have 35 percent fewer grease fittings than the competition," says Larry Ashley, sales support manager, North America. O-ring face seal hydraulic fittings and a simplified design result in 38 percent fewer parts.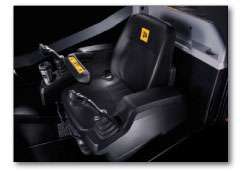 CAB
The sealed and pressurized cabs are 17 percent larger than previous models and have a noise level of 76 decibels. New on the Series 3 machines: multifunction joysticks and redesigned control panels are now relocated from the lower console to the panels at the top of the cab. Optional: heated air-suspension seat with adjustable arm rests.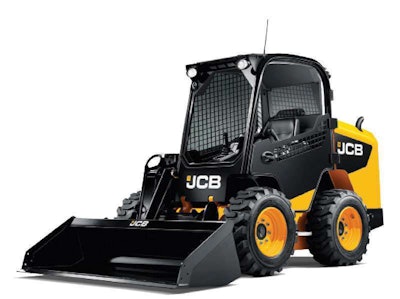 FUEL SAVINGS
JCB says Series 3 models offer 15 percent better fuel economy than the competition, which translates to a $3,000 fuel savings per year, based on an off-road diesel price of $2.90.
VISIBILITY
The company's unique PowerBoom design, introduced in its skid steers in 1993, gives both wheeled and tracked versions 270-degree visibility, primarily because of the elimination of the rear torque tube found on twin-arm models. The enclosed cab option also has laminated protective glass instead of steel mesh.
Beyond the bucket
More than 30 new attachment families – painted black and branded JCB – are part of the Series 3 launch. "Since on average three attachments are sold for every skid steer, the profit opportunity for attachments is sizeable and we had to address it," says JCB's John Patterson.
The Series 3's optional seven-way multifunctional joystick and optional hydraulic quick-hitch allows operators to both use each attachment to its full potential and quickly change out attachments without leaving the cab.
Attachments now include:
• Augers
• Breakers
• Brooms
• Brush cutters
• Several bucket types
• Cold planers
• Forks
• Grapples
• Rakes
• Stump grinders
• Tree spades
• Trenchers
• Vibratory rollers.

What about Volvo?
JCB and Volvo announced earlier this year JCB would manufacture Volvo wheeled and tracked skid steers out of JCB's Savannah plant. Although few details on the Volvo product were made in the November press event, JCB's John Patterson did say the Volvo machines would be the same as the JCB machines, except for Volvo branding, color and instrumentation. "It would be my guesstimate that probably a third of our Savannah skid steer production will be Volvo machines," Patterson said. Volvo will have access to all 18 new models and attachments. EW