Force and finesse
Kenworth's T800 severe-service tractor gives productive blend of seemingly star-crossed driving characteristics
By Jack Roberts
I'm not a fan of ABC's Dancing with the Stars television show. I find the whole premise silly. Also, it's clear that the show's producers and I have vastly differing opinions on just who should be considered a "star" in the first place. But all that aside, I know enough about the show to understand that professional athletes typically do quite well in the dance competition, despite their large physical size in many cases.
I couldn't help but think of those dancing athletes recently while test-driving Kenworth's T800 AeroCab in Washington State. This truck is Kenworth's top-of-the-line heavy-hauler, packing a 15-liter, 600-horsepower Cummins ISX engine churning out 2,050 pound-feet of torque. But despite its size and brute power, I found the T800 to be surprisingly nimble on both busy interstate highways as well as twisting, turning two-lane back roads.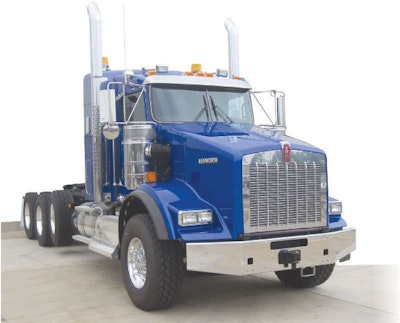 The test tractor was pulling a flatbed trailer fully loaded to 80,000 pounds GVW with concrete barricades. So I knew the Cummins diesel had its work cut out for it. But the ISX wasn't facing off against those heavy concrete barricades alone: It also had Eaton Fuller's Ultrashift Plus automated manual transmission in its corner. And the powertrain proved in short order that it could handle the heavy load without so much as a hint of hesitation. The Cummins power came on easily, as expected, and acceleration – despite the heavy load – was smooth and consistent. Equally important, the transmission shift points were spot-on – right where you'd want them if you were shifting a manual unit. Shifting is second-nature for skilled drivers. Still, it's amazing how freeing an automated transmission can be – particularly in heavy traffic. The UltraShift takes a tremendous amount of work off the driver and allows them to focus exclusively on traffic or road conditions without having to worrying about gear selection, downshifts or double-clutching.
What really jumps out at you as you settle in behind the wheel in the T800's AeroCab is the large amount of window area Kenworth engineers have given this truck. Sight lines are uninterrupted no matter which direction you look. Even better, you can easily see down to the sides and over the nose of the tractor.
Once you've got the T800 moving, the next thing you notice is how easy it is to steer and how well it handles – even at low speeds in tight surroundings. Wheel cuts are impressive and allow tight, precise control in every conceivable road condition. I was even able to rack the tractor-trailer through a narrow roundabout with minimal trouble. Taken as a whole, the T800 is a match of force and finesse. It's got the power to handle strenuous construction jobs. But just as important, it's got the agility to maneuver safely and efficiently on even the most congested jobsites. EW