Gen sets and light towers
By Amy Materson

CLEVER KIT
Provide lighting for a range of applications with Baldor's towable light tower kit, available for the TS35T towable generator.
• Kit has 30-foot telescoping light mast
• Assembles in about two hours with no drilling
• Plugs into 120-volt, 50-amp twistlock outlet on the generator's
control panel.
Visit EquipmentWorld.com/info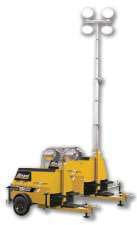 SWIFT SETUP
Simplify setup, transport and storage with Allmand Bros.' V Series vertical light tower configuration, a standard feature on the Maxi-Lite EX Series light tower.
• Vertically telescopes and retracts from its own housing, reducing the potential for damage
• Hydraulic lift system raises and lowers the mast in less than 30 seconds
• Lights operate at any height, and accurate fixture adjustment is quick and easy.
Visit EquipmentWorld.com/info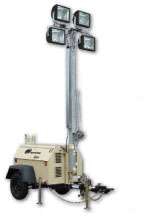 LOTS OF LIGHT
Experience improved lighting output with the Ingersoll Rand LightSource light tower from Doosan Infracore Portable Power, which features updated light fixtures for better distribution and coverage.
• Four 1,000-watt metal-halide floodlights provide 52 hours of continuous operation
• Equipped with an 1,800-rpm water-cooled engine and brushless, single phase 6-kilowatt generator
• Control panel has individual lamp switches and 120-volt/15-amp duplex and standard 240-volt/20-amp twistlock receptacles.
Visit EquipmentWorld.com/info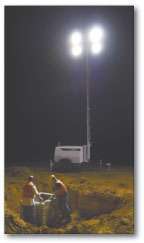 RAISE IT UP
Easily raise and lower Terex's AL4000 light tower, which has a single winch system and ergonomically positioned handle.
• 30-foot extended height flood lights provide 4,000 watts of light
• Features heavy duty Kubota engine
• Stowed width of 5 feet, 2 inches and 14-foot, 11-inch length.
Visit EquipmentWorld.com/info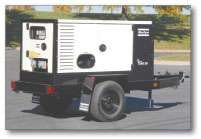 TIMESAVER
Increase uptime on the jobsite with Atlas Copco's QAS 30 generator, which has a 53-gallon fuel tank for 33 hours of run time at 75 percent load.
• 500-hour service intervals reduce maintenance time
• Has 43-horsepower, 1,800-rpm Deere engine
• Zincor steel coating designed for extreme weather conditions.
Visit EquipmentWorld.com/info
COMPACT AND CONVENIENT
Air Systems' Area Lighting System features HID, LED, 850- and 950-nm lights in a compact design.
• Four DC power options deliver extended run times
• Aluminum extension pole and lamp head extends to 8 feet
• Has collapsible stainless steel legs.
Visit EquipmentWorld.com/info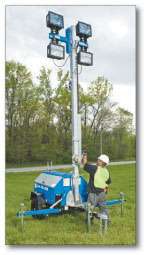 EASY ILLUMINATION
Illuminate large areas with Genie's TML-4000 light tower, which features a 30-foot extended height and 360-degree tower rotation.
• Four lights individually adjust to focus light where needed
• 30-gallon fuel tank provides 60 hours of run time
• Has a Kubota engine, galvanized mast and numbered and interchangeable ballasts.
Visit EquipmentWorld.com/info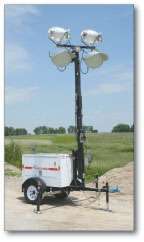 NIGHT LIGHTING
Light a 40-foot-diameter area with Magnum Products' MLTDOT light tower series, which has two 400-watt and two 1,000-watt light fixtures with metal halide lamps.
• Has 6-kW standby power output and two individually breakered convenience outlets
• Stable operation in winds to 65 mph with a four-point outrigger stance
• Runs up to 60 hours without refueling.
Visit EquipmentWorld.com/info
SPEED CONTROL
Subaru's line of three conventional generators features EX Series overhead cam engines.
• Available with 5,000- to 7,000-watt output ranges
• Manufactured from heavy duty steel to boost durability
• Automatic idle control lowers engine speed when electrical power is not needed.
Visit EquipmentWorld.com/info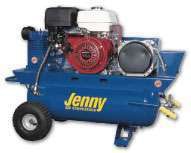 USEFUL COMBO UNIT
Jenny Products' K11HGA-17P-3000W compressor/generator combination model delivers portable air and a power source in a single unit.
• Features a heavy duty, single-stage cast iron "K" compressor pump
• 11-horsepower Honda GX series OHV engine with electric start produces 8.9 cfm at 100 psi or 8.6 cfm at 125 psi
• A 3,000-watt, 115-volt/230-volt generator provides power for electric tools or other equipment.
Visit EquipmentWorld.com/info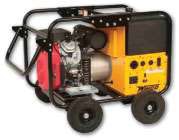 USER-FRIENDLY FEATURES
Work an entire shift without refueling with Winco's WC12000HE industrial portable generator, which has a 15-gallon fuel tank that runs 9 hours at full load and 15 hours at half load.
• Has a 20-horsepower Honda engine with electric start and low oil protection
• 10,000-watt continuous output and 12,000-watt surge for motor starting
• Features an all terrain four-wheel dolly kit, lifting eye, pneumatic tires and multiple receptacles with circuit breakers.
Visit EquipmentWorld.com/info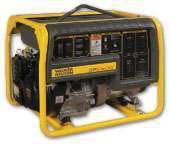 SAFE SYSTEM
Experience reliable performance in a compact package with Wacker Neuson's line of portable generators.
• Eleven models available from 2,500 to 6,600 watts
• Rotating field alternator has automatic voltage regulation and separate excitation winding
• GFCI system ensures safety and durability.
Visit EquipmentWorld.com/info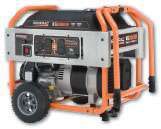 EASY TO HANDLE
Generac Power Systems' professional grade XG Series portable generator features a compact design and small footprint for simplified transportation and handling.
• Six models available, all with Generac OHVI engine
• Durable construction features full wrap frame tubing and impact resistant corners
• Has an illuminated control panel, low oil pressure protection and hour meter with maintenance resets.
Visit EquipmentWorld.com/info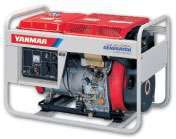 NOISE BUSTER
Choose from continuous or stand-by power applications with Yanmar's diesel drive YDG Series, which includes the 2.5-kW YDG2700, the 3.7-kW YDG3700 and the 5.5-kW YDG5500.
• Decibel rating at one meter of 92, 93 and 96, respectively
• Open frame structure ensures easy handling
• Designed for 3,600-rpm run speed.
Visit EquipmentWorld.com/info