By Amy Materson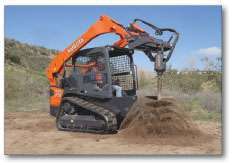 POWER AND PERFORMANCE
Kubota has entered the compact track loader market with two models: the 75-horsepower SVL75, which has a 6,204-pound bucket breakout force and 4,881-pound lifting capacity, and the 90-horsepower SVL90, which delivers 7,961 pounds of breakout force and offers a lifting capacity of 5,869 pounds. Powered by a four-cylinder Kubota diesel engine, both models have a rigid mount undercarriage and feature a vertical lift design. Two-speed travel and high ground clearance ensure stability on rough terrain, and convenience features include a hand-and-foot throttle and high back adjustable suspension seat. A tilt-up cab offers easy access for simplified maintenance, and all grease fittings are accessible from ground level.
Visit EquipmentWorld.com/info

DEMO FROM A DISTANCE
Perform precise demolition work safely with Stanley LaBounty's F16 remote controlled demolition robot. The electrically drive hydraulic carrier handles all Stanley LaBounty mounted attachments, including grapples, shears, buckets and breakers, as well as all Stanley Hydraulic handheld tools. An auxiliary hydraulic circuit enables the F16 to operate mounted and handheld tools simultaneously.
Visit EquipmentWorld.com/info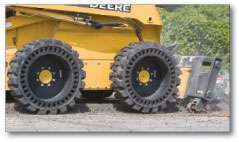 SMOOTH AND STABLE
Experience stability and traction with CEAttachments' line of flatproof Solid Flex tires, available in a 14-by-17.5 size for skid-steer loaders. The tires have 63-percent lug to 47-percent void ratio in a wider, longer tread bar design that has 2.8 inches of wearable tread. An enhanced mining rubber compound resists tearing and chunking. Elliptical apertures reduce wear and offer a smooth ride.
Visit EquipmentWorld.com/info
EDITOR'S PICK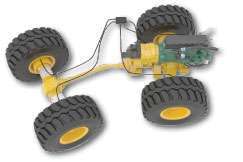 FUEL SAVER
Volvo's L150F, L180F and L220F wheel loaders now have the OptiShift driveline system, which delivers fuel savings of up to 15 percent. OptiShift adds a new torque converter with lock up and free wheel stator to Volvo's APS driveline. The OptiShift transmission delivers smooth shifting with automatic lock up in second through fourth gears. The function can be switched on and off from the cab. Volvo says the driveline is also useful in reducing fuel consumption in load and carry operations, and in short cycle loading. The RBB (Reverse by Braking) system assists in machine deceleration through the use of the standard service brakes, rather than the torque converter. Once the operator switches from forward to reverse, the RBB system slows the machine, enabling smooth deceleration while reducing wear and fuel consumption.
Visit EquipmentWorld.com/info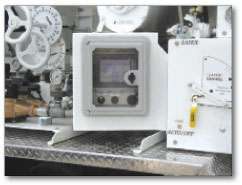 ENHANCED INFORMATION
Track concrete production with Cemen Tech's Accu Printer II, which incorporates touch screen technology to provide on-the-spot mix design information. The AP II stores up to 39 mix designs, providing proper gate settings and flow rate information for each. The unit records the water/cement ratio throught the pour cycle, and offers a driver log feature to enable the owner to assign log-in numbers.
Visit EquipmentWorld.com/info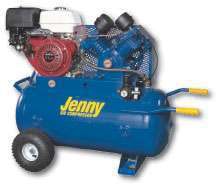 COMPACT COMPRESSOR
Handle high volume requirements in a compact design with Jenny's J11HGA-30P single-stage gas powered compressor. The 11-horsepower wheeled portable unit has a 30-gallon air tank and delivers 21.3 cfm at 100 psi, or 20.9 cfm at 125 psi. A belt driven four-cylinder pump with a high compression ratio produces maximum air flow. Specially designed unloading valves and a large flywheel allows for easy recoil starting. The compressor is equipped with a manual tank drain, safety relief valve and large canister intake.
Visit EquipmentWorld.com/info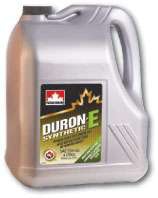 MINIMAL MAINTENANCE
Extend drain intevals with Petro-Canada Lubricants' Duron-E synthetic 5W-40 heavy duty engine oil, formulated for both on- and off-road fleets. Useful in minimizing engine wear and oxidative thickening, Duron-E is suitable for 2007 and 2010 EPA-complaint on-highway engines and is back-servicable for pre-2007 engines. The oil also protects against corrosion while boosting top-up and cold start-up performance.
Visit EquipmentWorld.com/info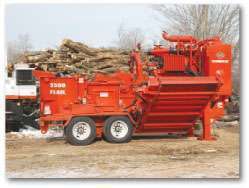 FEATURE-RICH FLAIL
Pair Morbark's 5500 stand-alone flail with the company's whole tree chipper to provide the same end-product as a larger combination flail machine. Used alone, the flail removes bark and foliage from trees and produces high quality chips with bark content of less than 1 percent. Available with either two or three flails, the 5500 also includes a diagnostic system for monitoring the feed wheel, hydraulic pressures and flail drum speed.
Visit EquipmentWorld.com/info